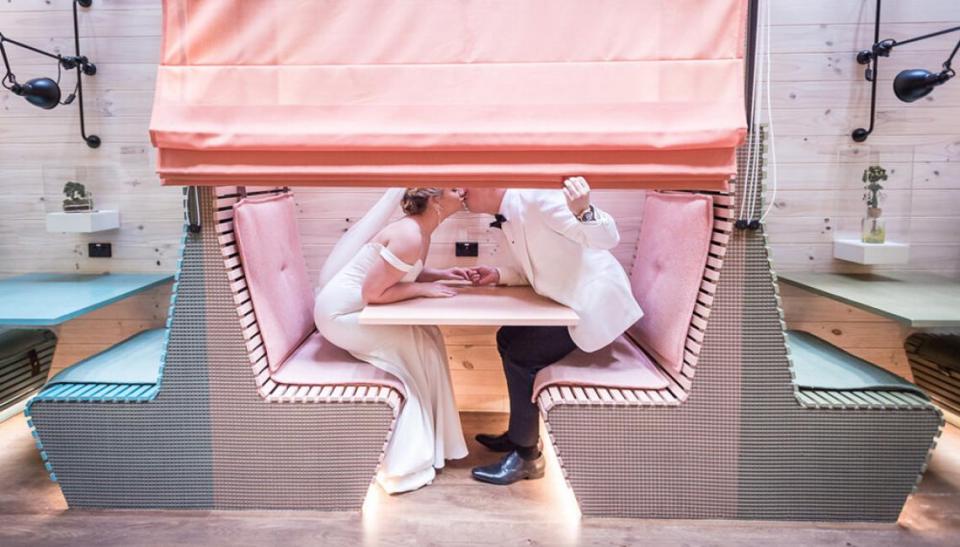 There are plenty of affordable wedding photographers in Sydney, if you know where to look. As the old adage goes, you get what you pay for.  But wedding photography is a competitive industry and with a little hunting around you can get beautiful wedding photos without the standard price tag.
Let's talk about what cheap means when it comes to wedding photography.  The average cost of wedding photography in Sydney and Melbourne is around $3,200 for 6 to 8 hours coverage and usually comes with a set of digital images.  Cheap wedding photography packages range from $500 to $3,500.
When searching for cheap wedding photography it's helpful to know your budget, but also to clarify what style of product and service inclusions you're hoping to get with your budget.  No two packages are the same when it comes to wedding photography.  Every photographer has a different style of shooting and produces different results.  They all have different packages too, so trying to understand what constitutes a 'great deal' is a somewhat inexact science.
The two most important elements to consider when booking a wedding photographer is the style of their work and the service they will provide on your wedding day.  You want to love your wedding photos when you get them back so it's important to choose a photographer who produces images in a style that speaks to you.  The other part of the decision is whether you will enjoy spending your wedding day with this person, and whether you feel relaxed and happy around them. Because this will show in your images!  If you don't like your photographer, there's nothing surer than you won't like your photos.
Instead of searching for a great deal, we always recommend setting a budget and then be flexible on the package inclusions.  Start your search by browsing images and shortlist photographers whose work you love.  Use our search filters to compare images side by side.  Then meet the photographers & identify which one or two you connect with best.  You can scale your hours of coverage up or down according to that photographer's package prices.
Some couples find it helpful to consider the value for money they're getting in terms of an hourly rate.  A high end photographer may create a cheap package of $2,500 for a client that includes 4 hours coverage.  Others may define a good value package as more like $2,500 for 12 hours coverage.  Our list of affordable wedding photographers in Sydney provides a good range of options at both ends of the hourly rate scale.
What's a cheap wedding photography package?

Image by Sydney photographer Mr Wigley
With a budget of $1,000, the cheapest packages will include 4 to 6 hours coverage.  With $2,000 to spend you'll find packages that include 8 to 10 hours coverage.  And if you're looking for affordable wedding photography that isn't bottom basement you'll find some excellent value packages in the $2,500 - $3,500 price bracket.
For weddings on a tight budget, an option to consider is booking a ceremony + portraits package including just a few hours coverage.  There are plenty of wedding photographers that offer minimum packages of only 2 or 3 hours and for small intimate weddings, this may be all you need.
Deciding on a smaller photography package gives you a great choice of quality photographers in a more budget friendly price bracket.  You get the best of both worlds. 
Great quality at affordable prices
We're lucky in Australia to have access to many internationally acclaimed photographers.  The ACT, central & south coasts of NSW, Sydney and Melbourne are particular hot spots for incredible wedding photographers.  
If beautiful imagery is important to you, and you've found yourself with a preference for high end photography but have a lower end budget, another option is to try enquiring with the high end photographers who reside outside of the main cities.  Their packages are often a little cheaper.  Explain a little about yourself and your wedding plans when you enquire.  Many of the country's top photographers are motivated by great stories that they will enjoy telling through their lens.  You might find you can strike a mutually agreeable arrangement.
Bear in mind that top wedding photographers usually have a minimum package of at least 6 hours and sometimes require that their images are delivered in print.  This means that while you do get the digital files, you'll also be required to pay for an album.  If your heart is set on having absolutely stunning images, you'll need a minimum budget of $1,500 for limited coverage and $3,000 for ceremony + reception.  A budget of $4,000 opens up more options.
How to get a good quality wedding photographer for under $1,000
If you're getting married in your backyard and the total wedding budget is $5,000, you're probably not wanting to invest in a 'cheap' wedding photography package at the $3,000 end of the scale.  Instead, you'll be looking for the highest quality wedding photographer you can find for under $1,000.  
Wedding photographers are good peoples.  Not to generalise, but they tend to love a good love story and in particular - couples who struggle to keep their hands off each other.  As artists they enjoy challenging themselves to create stunning imagery and having an awesome couple with great chemistry and big smiles to work with, is a great start towards an awesome artwork.  You may find you have a little negotiating power.
Unlike large corporate businesses with fixed policies and pricing structures, wedding photographers often work alone and have more flexibility with packages.  Keep in mind that your master artist still needs to eat.  
You'll find a couple of budget packages around $1,000 in our list of affordable wedding photographers in Sydney. 
Where to find cheap wedding photography
Affordable wedding photographers are often newly started businesses.  In Sydney, there are more than 1,000 wedding photographers operating at any one time.  The market is highly saturated and extremely competitive.  For new entrants into the market it can be difficult to find couples willing to entrust their wedding to them.  If photography isn't your number one wedding priority, this could present an opportunity for you. There are always photographers looking for wedding experience who will offer you cheap, or sometimes even free, wedding photos.
If you're thinking about booking a start up business, choosing a photographer with proven capability in another people-oriented genre may improve your chances of getting some great shots.  Sports and news photographers for example, may be a better choice than someone whose photography work usually involves static shots like real estate. 
Weddings are a unique environment and require a lot of quick thinking and reactive shooting.  If reaction shots are important to you (of your family and friends during the ceremony for example), you may want to opt for an experienced wedding photographer.  Ceremonies can sometimes be as short as 6 minutes so photographers must know what will happen next, when to move and where to be standing in order to capture the moment perfectly.  This requires experience.
Because Sydney is such a competitive marketplace for wedding photographers you may find that long-time established businesses offer excellent value for money.  Especially during periods of growth in the industry.
As new entrants come into the market with their shiny new websites and fancy social media accounts, demand can drop for established players.  These businesses have survived many ebbs and flows in demand by offering a consistently good product and service at reasonable prices.  If you find yourself on the receiving end of an offer from one of these photographers, it's likely to be a deal well worth consideration.
To make your search easy, download our list of recommended affordable wedding photographers in Sydney.  It includes links to photographers who offer wedding packages between $500 - $2,500. You can also search all photographers on our website.  Use the filters to compare images side by side to find your favourites.
Cover Image by Mr Wigley Photography in Sydney.