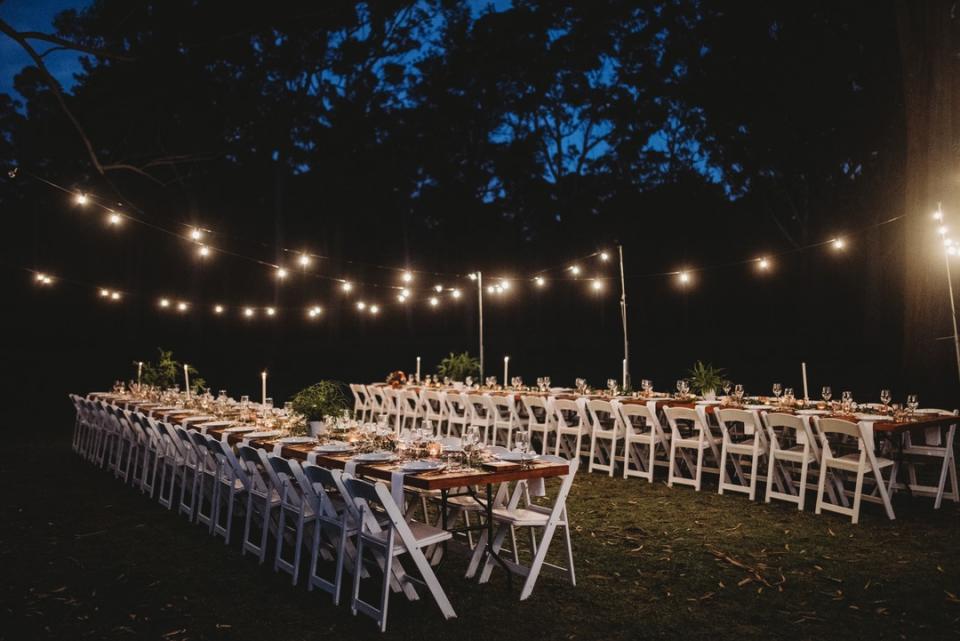 Affordable wedding venues on the South Coast of NSW are some of the cheapest spots to get married in the state. Many budget friendly wedding venues on the South Coast are in waterfront locations with ocean, river or harbour views. Other inexpensive locations include private properties on acreage where cheap ceremonies and reception venue hire gives you exclusive use of the property for weekend.
On the NSW South Coast you can enjoy the privacy of your very own farm or bushland wedding without spending a fortune. There's also halls and surf life saving clubs for cheap beach weddings and DIY venues, either inland or on the water, where you can BYO everything to keep costs to a minimum.
Almost all wedding venues from the Shoalhaven to the far South Coast offer cheaper wedding packages midweek and in the off-peak winter season. Prices usually hit peak from mid August through to mid April, so if you're aiming to save on your budget it's worth considering planning your wedding either side of these months.
Some reception venues on the South Coast provide affordable and all-inclusive food & beverage packages.  The other cheaper venues are more DIY where you simply pay a venue hire fee and supply your own drinks and catering. With a great range of food trucks and mobile bars in the region, organising a wedding that fits your budget is not as difficult as you might think.
Here are the 10 most affordable wedding venues on the NSW South Coast.
Affordable Venues in Nowra
Nowra and its neighbour Terara Park, offer some of the South Coast's most affordable wedding venues. And many are located on the picturesque Shoalhaven River.  You can get married in this scenic area for less than $100 per person.

1. Figbird Cottage
Location: 330 Comerong Island Road, Terara, NSW 2540
Capacity: 150+
Accommodation: Sleeps 8 in 2 cottages
Wedding Packages: Venue hire from $4,500
Affordable day and weekend packages include hire of ceremony & reception venues plus accommodation for 8 in two onsite cottages for 3 days/2 nights. With a large list of inclusions, Figbird Cottage is one of the cheapest wedding venues on the South Coast.

2. Bewong River Retreat
Location: 

2395 Princes Highway, Bewong, NSW 2540

Capacity: 60 - 130
Accommodation: Sleeps 26 in Bungalows + Glamping
Wedding Packages: Venue hire from $5,000
This private riverfront oasis is exclusively yours for 3 days & 2 nights when you book the 9 luxury bungalows on the property. The bungalows are $240/night in the low season and several come with a luxury spa from where you can enjoy the serenity of your very own bush views. Wedding venues include gardens, function room and adjoining marquee.
3. Terara Park Farm

Location: 

174 Millbank Road, Terara, NSW 2540

Capacity: 50 - 180
Wedding Packages: All-inclusive from under $80/pp
Terara Park Farm is another of the South Coast's most affordable wedding venues. The farm offers a relaxed setting with wide open spaces and the convenience of having your wedding ceremony and reception in the one spot.
▹ VIEW ALL: NOWRA WEDDING VENUES
Affordable Venues in Berry
The historic village of Berry provides a handful of affordable wedding venues within the town itself, and is surrounded by several properties on its outskirts that offer DIY, country weddings. These beautifully renovated properties require you to book the accommodation that's available onsite and you receive exclusive use of the property to plan your wedding using whichever suppliers you wish.
With the option to BYO food & beverages, it's possible to create the wedding of your dreams in Berry, with a fairly modest budget. 

4. Willow Farm
Location: 

Galls Lane, Berry, NSW 2535

Capacity: 130
Accommodation: Farmhouse sleeps 10
Wedding Packages: Venue hire from $12,000 with two nights accommodation included.
Willow Farm offers affordable weddings with a relaxed country vibe just 8 minutes from Seven Mile Beach. For receptions, The Entertainment Shed provides a rustic space that can be used for dining, dancing and/or a lounge area. Cost effective outdoor wedding receptions are also popular here wth all furniture provided free of charge. 
Willow Farm is a DIY & BYO venue allowing you to choose all wedding services according to your budget. Some couples opt to hire a marquee to add a seperate dining or dancing space in addition to utilising the Entertainment Shed. 
▹ VIEW ALL: BERRY WEDDING VENUES
Affordable Venues in Jervis Bay
5. Kullindi Homestead
Location: 

Ellmoos Road, Jervis Bay, NSW 2540

Capacity: 20 - 200
Wedding Packages: Venue hire includes exclusive use of the private waterfront property with accommodation in 5 self contained units. BYO Catering, drinks & marquee.
One of the few affordable wedding venues in Jervis Bay, Kullindi Homestead is a place where you can BYO all your own wedding vendors to create your dream ceremony and reception setting. With its stunning waterfront location and outdoor weddings are particularly popular here.
▹ VIEW ALL: JERVIS BAY WEDDING VENUES
Affordable Venues in Mollymook
Cheap beach weddings are what Mollymook is all about. This slightly less busy holiday spot is the ideal location for cheap beach ceremonies and affordable receptions with ocean views. Here are the most affordable wedding venues in the South Coast region of Mollymook.
6. Mollymook Beachside Weddings
Location: 

72 Golf Avenue, Mollymook, NSW 2539

Capacity: 220
Wedding Packages: All inclusive beachfront packages from $117/pp.
Located at the golf club, Mollymook Beachside Weddings is an affordable all-in-one location for weddings on the beach. From barefoot ceremonies in the sand to all inclusive receptions with the ocean as your backdrop, Mollymook Beachside Weddings ticks all the must-haves for a picturesque and affordable beach wedding.
 View Mollymook Beachside Weddings
▹ VIEW ALL: SOUTH COAST WEDDING VENUES
Affordable Venues in Batemans Bay
If you're looking for an affordable location to get married and stay for the weekend, in somewhere away from the public eye then South Durras near Batemans Bay could be your ideal place to tie the knot. This Batemans Bay venue offers affordable weddings and a secluded beach location all rolled into one perfect spot to say "I do".

7. NRMA Murramarang Beachfront Holiday Resort
Location: Banyandah Street, South Durras, NSW 2536
Capacity: 20 - 120
Accommodation: Villas sleep 40+
Wedding Packages: All inclusive from $160/pp
Murramarang Resort is one of the cheapest beach venues on the South Coast. Located right on the ocean shore, the resort offers several ceremony and reception venues with stunning ocean views plus villas to accommodate all guests.
Ceremony venues include Mill Beach, a grassy headland, forest settings and the wet weather courtyard. Two indoor & two outdoor reception venues cater for micro weddings of 20 - 40 guests up to parties of 120.
 View NRMA Murramarang Beach Resort
▹ VIEW ALL: SHOALHAVEN WEDDING VENUES
Affordable Venues at Culburra Beach
Slightly off the beaten path, Culburra Beach offers a quieter spot along the southern coastline of NSW where you can get married for under $50 per person if you really wanted to. Culburra Beach has perfect white sand for wedding ceremonies and a reception venue right on the beachfront. You're only decision is who to cater and how to decorate. 
8. Nowra Culburra SLSC

Location: 

4 Farrant Avenue, Culburra Beach, NSW 2540

Capacity: 50 - 130
Wedding Packages: Hall hire from $2,000
The Culburra surf club offers beachfront wedding ceremonies and receptions for the cost of hall hire. The hall is a wonderful light-filled, blank canvas venue that styles well with minimal budget. As well as a commercial kitchen and million dollar ocean views, the hire fee includes crockery, glasses and silverware. BYO caterers, drinks & stylist.
Affordable Venues on the Sapphire Coast
The coastal holiday spot of Tathra is not one of the South Coast's most popular wedding destinations due to its far south location. But invest the extra hour or so to get here, and you'll be rewarded with a stunning beachside destination where an affordable wedding is very much achievable. 
9. Kianinny Bush Cottages

Location: 

246 Tathra Road, Tathra, NSW 2550

Capacity: 60 - 150
Wedding Packages: All-inclusive under $90/pp
Kianinny is a 100 acre bush property with 2 covered outdoor wedding venues and self contained accommodation for 150 guests.  At the centre of the bush covered property is a lake and jetty where you can have your wedding ceremony in the peaceful surrounds. 
Archery, a flying fox, bush walks, mini putt golf and mountain biking are just a few of the adventures on offer at the property. You can use either of the two covered outdoor venues for pre-wedding and post-wedding BBQ's or other communal get togethers which is all included in your use of the property while you are staying in one of the cottages.
10. Mimosa Wines
Location: Bermagui - South Coast, NSW
Capacity: 180
Accommodation: Sleeps 13
Budget Guide: $24,000 (100 people) less for cocktail weddings & off-peak
Mimosa Wines is a 200 acre winery nestled between the beaches and national park of the NSW South Coast. The elevated restaurant overlooks the property's vineyard and surrounding countryside and provides a rustic reception venue with breathtaking views.
Wedding ceremonies can be held in a bush setting or beside the water-lily dam and private accommodation is available in a farmhouse and seperate cottage. 
Affordable Wedding Packages
The average cost of all-inclusive wedding packages on the South Coast is $150 - 200 per person with a ceremony onsite and catering provided. There are several budget-friendly venues however, that offer all-inclusive packages for less than $100 per head. Cheap wedding venues like halls and surf lifesaving clubs that allow you to DIY & BYO offer the possibility of catering your wedding for under $50 per person.
Want to get brochures for all affordable wedding venues on the South Coast? Request all brochures below to get venue and package information for the 10 cheapest wedding venues on the NSW South Coast. And if you're still looking for the perfect spot to get married, view the complete list of South Coast wedding venues.
Cover image by Translucent Photography