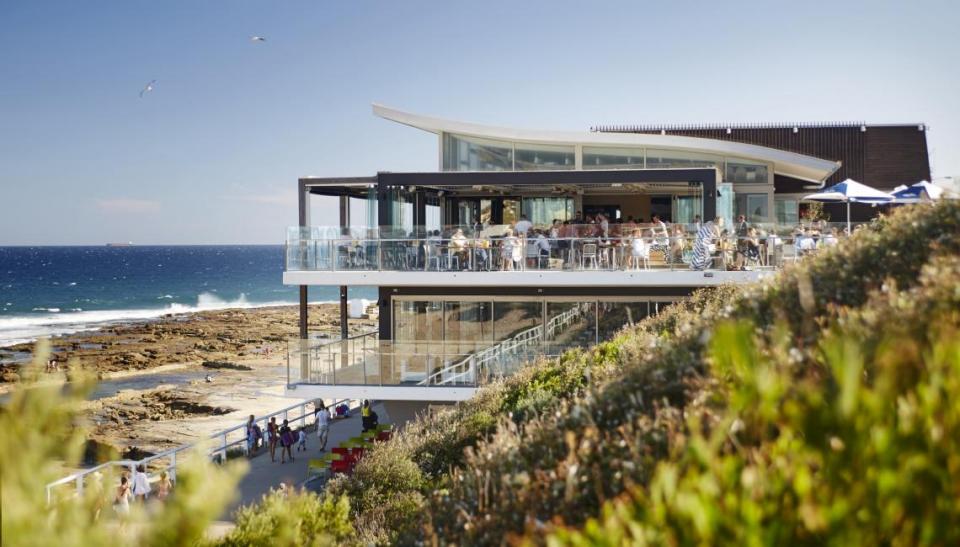 From beach wedding venues with stunning ocean views to cliff top gardens with panoramic seascapes. NSW has a wonderful choice of waterfront wedding locations for your special day.  In this article, we're taking you on a coastal journey to find wedding venues with the best ocean views in NSW.
Many of the most popular oceanfront wedding venues are located in the state's largest cities with the Northern Beaches of Sydney a particular hotspot. But there's also plenty of options both up and down the NSW coastline, allowing you to plan a gorgeous beachfront wedding in a more secluded or less well-trodden location. 
Regional destinations are often much cheaper than their city counterparts and NSW offers plenty of more affordable waterfront wedding venues for those on a tighter budget. Luxury oceanfront properties can be found in the eastern and northern beaches of Sydney and there are many secluded, high-end properties dotted up and down the north and south coastlines too.
If an ocean backdrop is your dream wedding location, keep reading to find the best coastal spots in the state. 
 View all NSW ocean-view venues
Oceanfront Venues in Sydney 

Ocean view wedding venue in Sydney's northern beaches
You're spoilt for choice when it comes to oceanfront wedding venues in Sydney, with many of the city's beach suburbs providing event spaces with views of the ocean. From venues that look straight out to sea, to locations with port side and harbour views, Sydney offers a great variety of world class waterfront locations to choose from.
The Northern Beaches region of Sydney has an abundance of beachfront venues. At the bustling Manly Beach you'll find gorgeous light-filled wedding reception spaces with floor to ceiling glass windows. Wedding ceremonies can be held on the beach or on the balcony at your venue overlooking the palm trees and sand. Beachside Dojo is a popular wedding venue here.
There's no shortage of things to keep your guests entertained between your ceremony and reception at Manly Beach. It's one of the best places in Sydney to grab a cocktail, sit at an open pub window and people watch on the beach foreshore. 
The pace is slower at neighbouring Shelly Beach where you can get married at one of The Boathouse venues. Downstairs on the beach caters for weddings of up to 200 guests while upstairs has a smaller oceanfront space that's suitable for 40 - 120 guests.
The Boathouse at Palm Beach is another stunning location with a deck over the water for outdoor cocktail weddings of up to 200 guests. The water views at Palm Beach venues look over Pittwater to the Kuringai National Park on the opposite banks.

Ocean view wedding venue overlooking Pittwater on Sydney's northern beaches
On the 30km stretch between Manly and Palm Beach are several suburbs with wedding venues that offer spectacular ocean views. Long Reef, Mona Vale, Avalon and Whale Beach are popular choices and wedding venues here range from luxury cliff top eateries to function spaces at picturesque golf clubs.
There are lots of waterfront wedding venues on Sydney Harbour, some of which come with their own private beaches. While not technically ocean-front venues, if you're wanting a waterfront wedding in a picturesque location, these venues certainly tick the boxes.
Bondi and Clovelly beaches in Sydney's eastern suburbs are popular wedding locations with several surprisingly affordable venues. Clovelly Surf Club is a spectacular setting for weddings of up to 130 guests and offers wonderful opportunities for a variety of waterfront wedding photos.

An engagement shoot at the beach. Image: White Wedding Photographers
South of Sydney offers a slightly more affordable selection of wedding venues, with Botany Bay and La Perouse the best choice for ocean views. St Michael's Golf Club at Little Bay is a popular choice for locals, with golf carts providing transport to awe inspiring cliff tops overlooking the ocean.
 View all Sydney ocean-view venues 
Oceanfront Venues in the Illawarra
The Illawarra is home to some of the most in demand ocean view wedding venues in Australia. Centred around Wollongong, the region offers a choice of seaside and beachfront locations as well as cliff top venues with stunning views over the local farming landscape out to the South Pacific Ocean.
Austinmer Beach is a popular location for couples wanting to have their wedding ceremony on the sand. Wedding receptions are held at Headlands nearby, a sea level venue that caters for elopements up to weddings of 300 guests. Sitting on the cliff tops above are two venues with spectacular 180 degree ocean views - Altitude 1148 (pictured above) with capacity for up to 140 guests and Panorama House which offers affordable, all-inclusive packages for larger weddings of up to 380 guests.
The gorgeous holiday spot of Kiama is another popular wedding destination in the Illawarra with The Sebel offering an all in one venue for waterfront ceremonies, receptions as well as honeymoon accommodation. Further south is one of the most sought after ocean view venues in Australia. Seacliff House is an impressive blank canvas set on undulating green farm land with spectacular views across the paddocks and out to sea. You can bring up to 180 of your closest family and friends to this modern, light-filled barn, to which your wedding stylist can add your own personal touch.
 View all Illawarra ocean-view venues
Oceanfront Venues on the NSW South Coast
A leisurely 2 hour drive south of Sydney is a peaceful surfing township at Shoalhaven Heads. Bangalay Luxury Villas is tucked between the local golf course and beachside national park, providing a private oceanfront wedding venue with exclusive use of the property - including the 16 self-contained villas. This venue is ideal for couples who wish to extend celebrations and enjoy the company of family and friends in a luxury and very private setting.
A further 40 minutes south, are the white sand beaches of Jervis Bay. The area has a wonderful selection of wedding venues including The Cove, where you can have your wedding ceremony on your own private beach.

Mollymook Beachside Weddings by Red Berry Photography
Another option from our list of ocean view wedding venues in NSW is Mollymook Beachside Weddings. This waterfront space provides affordable and all-inclusive wedding reception packages for up to 220 guests. You can have a beach ceremony in front of the venue and the reception space offers 180 degree views of the ocean.
For those who like the idea of a relaxed beachside wedding that's slightly off the beaten track, Bawley Bush Retreat at Bawley Point provides a wonderful festival style space surrounded in nature. You can have an outdoor wedding reception here and there's a function room in the event of wet weather. The venue accommodates 45+ guests with campsites and glamping available in addition.
 View all South Coast ocean-view venues
Oceanfront Venues on the Central Coast

Caves Beach wedding ceremony with ocean views
An easy hour drive from Sydney, are the laid back beaches of the Central Coast. Being not as busy as Sydney's beaches, the Central Coast offers a more relaxed atmosphere with all the benefits of a more populated area. There are plenty of cafes and restaurants, shops, sights and places to stay for your wedding guests, as well as some gorgeous places to have your wedding photos taken.
One of the best locations on the Central Coast is Caves Coastal Bar & Bungalows. The venue offers a range of settings for your wedding ceremony including the beach, oceanfront deck over the sand dunes or at the neighbouring park. Stylish bungalows offer onsite accommodation making Caves Coastal a popular all-in-one option that can also cater pre and post wedding events.
 View all Central Coast oceanfront venues
Oceanfront Venues on the NSW North Coast

Beach wedding ceremony on the NSW North Coast
On the 600km of coastline from Newcastle to Ballina is a wonderful selection of waterfront venues where you can get married with the ocean as your backdrop. The coastal wedding venues in this region include several luxurious private properties. Elopements, small weddings and weddings of up to 120 guests can be accommodated at these various luxury residences and some come with onsite catering services. 
A popular wedding location south of Newcastle is the iconic Merewether Beach. The function space at The Surfhouse has floor to ceiling glass windows that offer 180 degree ocean views. Popular with larger weddings of up to 350 guests, the spectacular setting provides a more affordable option than Sydney venues with oceanfront views.
 View North Coast ocean view venues
Oceanfront Venues in Byron Bay

Byron Bay wedding venue with views of the ocean
From hinterland properties to oceanfront venues, Byron Bay offers the ultimate choice for those seeking a laid back and spectacular setting for their wedding celebrations. The Byron Bay region is well endowed with world class eateries and award winning restaurants. Some can be exclusively booked for weddings, and provide an easy option for your reception.
More popular in this region are blank canvas venues where wedding stylists and planners will help you DIY & BYO to create a wedding that is the ultimate reflection of the two of you. Ardeena Events for example, offers breathtaking ocean and hinterland views from the peak of Mt Carool. Here, you have 77 acres of lush open fields and untouched rainforest with which to DIY your dream wedding. 
Coastal wedding venues in NSW offer some of the most spectacular ocean views in the world. From luxury private properties to affordable function spaces, we've got a huge range of ocean view wedding venues where you're sure to find your ideal location.
 View all NSW ocean-front venues