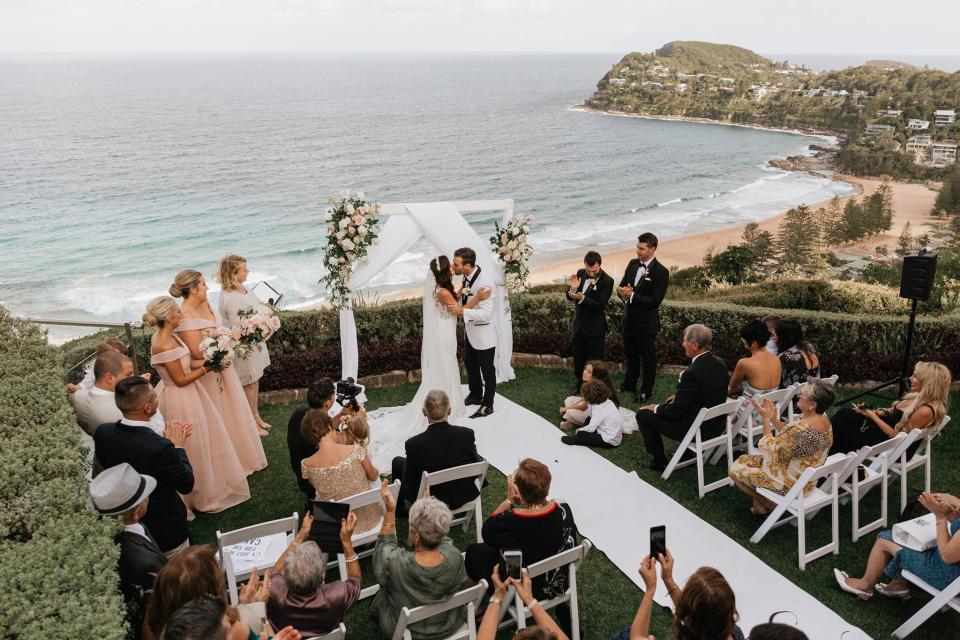 NSW offers a unique selection of oceanfront wedding venues. From cliff top retreats with panoramic ocean views to beachfront hotels, clubs and resorts. In this article we journey along the state's coastline to find the best seaside wedding venues in NSW.
Many of the most popular ocean view wedding venues are located in the state's largest cities. Included in the list below there's also a great choice of oceanside wedding locations up and down the NSW coastline, offering beachfront weddings in more secluded and less well-trodden places. 
NSW offers several luxury wedding destinations at high-end oceanfront venues along its coastal shorelines. The eastern and northern beaches of Sydney offer a choice of hatted, world class eateries. Amongst these seaside reception venues are a handful of private dining rooms well suited to smaller weddings. You'll also find 5 star resort locations dotted along the northern and southern coastlines. 
Regional seaside destinations are often much cheaper than their city counterparts and NSW offers plenty of more affordable wedding venues by the ocean for those on a tighter budget. You'll find surf beaches, quiet coastal towns and secluded bushland settings among the state's best locations for affordable oceanfront weddings below.
If an ocean view is your dream wedding location, this list of the best coastal spots in the state is for you. These are the most spectacular oceanfront wedding venues in NSW.
Popular Ocean View Wedding Venues
Top 34 NSW
Sydney
South Coast
Byron Bay
North Coast

Top 34 Ocean View Wedding Venues in NSW

1. The Cove Jervis Bay
LOCATION: Ellmoos Road, Jervis Bay NSW 2540
CAPACITY: 200
ACCOMMODATION: Sleeps 70 - 126
WEDDING PACKAGES: DIY/BYO
The Cove is an ideal wedding location for a beachfront getaway in Jervis Bay with your entire guest list. The coastal property offers your very own private beach for the weekend, and you can even get married with your feet in the ocean on the resort's private sandbar.
Reception venues include a brand new wedding pavilion and adjoining garden area with a festoon lit outdoor bar. The Cove is an excellent option for outdoor wedding receptions offering alfresco seated or cocktail events in the balmy coastal climate.
Self-contained beach cabins, a permanent glamping village and a beach house sleep up to 126 guests, and there's free kayaks, paddle boards and a swimming pool providing plenty to do onsite. Weddings require a minimum accommodation booking of 70.

2. The Pavilion Kiama
LOCATION: 2 Bong Bong Street, Kiama, NSW 2533
CAPACITY: 80 - 400
WEDDING PACKAGES:  All inclusive from $125/pp
The Pavilion is an affordable ocean view reception venue in Kiama at the gateway to the South Coast. Flexible floor layouts cater for wedding receptions of all sizes from 80 to 400 guests and you get exclusive use of the entire venue with your booking.
All reception areas are beach facing and filled with natural light from floor to ceiling windows. A wrap-around balcony offers panoramic ocean views over the headland to the Kiama lighthouse.

3. Fig Tree Park
LOCATION: 58 Sherringham Lane, Central Tilba, NSW 2546
CAPACITY: 2 - 200
ACCOMMODATION: Sleeps 2
WEDDING PACKAGES: DIY/BYO + All inclusive
Fig Tree Park is a brand new ocean view wedding venue just 2 minutes from Tilba Tilba on the South Coast of NSW. The private European style property is perched high on a hill amongst an intimate country landscape and offers unmatched, awe inspiring coastal views. Fig Tree Park is an ideal coastal destination for a romantic wedding weekend away.
Large fig trees on the estate's manicured lawns create a magical atmosphere for wedding ceremonies and receptions, lighting up at night in a sea of fairy lights. Complete with expansive countryside and sea views, this is an unimaginably romantic spot to set up outdoor dining tables for a fully alfresco wedding reception. Marquees are also permitted. 
All inclusive elopement packages for up to 10 guests are catered by a private chef. Larger weddings have a choice of catering options.

4. Goolawah Retreat
LOCATION: 288 Point Plomer Rd, Crescent Head NSW 2440
CAPACITY: 30 - 150
ACCOMMODATION: Sleeps 32 + camping
WEDDING PACKAGES: 3 Days
Goolawah Retreat is a coastal wedding venue that offers a very intimate & relaxed location for destination weddings on the North Coast. The seaside property is secluded within 28 acres of native bushland and has a brand new wedding pavilion with ocean views. 
There are 5 beautifully refurbished cottages included with the affordable venue hire fee and additional guests are permitted to camp onsite. You get exclusive use of the entire property and facilities for the weekend (including a commercial kitchen). Simply choose your own suppliers. Pet friendly. No curfew.

5. Coolangatta Estate
LOCATION: 1335 Bolong Road, Coolangatta, NSW 2535
CAPACITY: 2 - 200
ACCOMMODATION: Sleeps 70
WEDDING PACKAGES: $99+/pp
The uniquely positioned Coolangatta Estate is an oceanfront wedding destination situated at Shoalhaven Heads on the South Coast. The 100 acre vineyard is the historic site of first settlement in the region and has a convict-built community hall, heritage motel and rustic buildings, lending a relaxed country backdrop to coastal weddings.
The budget friendly winery is surrounded by water and just moments from the ocean's edge, offering the option of a beach wedding ceremony and photos. The estate has two reception venues to choose from including the atmospheric Grand Hall seating up to 80 guests or a larger function room for up to 200 people. Elopement packages available.

6. Interbane House
LOCATION: 8 Lawrence Hargrave Drive, Stanwell Park, NSW 2508
CAPACITY: 50
ACCOMMODATION: Sleeps 18
WEDDING PACKAGES: DIY/BYO
Interbane House is a clifftop wedding venue with spectacular ocean views along the southern coastline of NSW. The Victorian-era coastal estate has 5 large bedrooms, an open plan dining & lounge area, a covered entertainment area in the backyard and an outdoor spa and fire pit.
Manicured lawns and gardens surround the house providing an elegant oceanfront setting for wedding ceremonies and cocktail style receptions. Best suited to low key events. Another Airbnb sleeping 8 is available next door.

7. Tides Byron Estate
LOCATION: 290 North Teven Road, Teven, NSW 2478
HALL CAPACITY: 140
VILLA CAPACITY: 40
ACCOMMODATION: Sleeps 22
WEDDING PACKAGES: Tailored
Tides Byron Estate is a 100 acre property with a luxury 8 bedroom villa and reception hall located in Byron Bay. The villa sleeps 22 people and caters for small weddings with up to 40 guests, while the reception venue seats up to to 140. The villa and hall can either be booked together or separately. 
Weddings in the villa centre around the poolside entertainment area which has ocean views looking over the property's macadamia orchard to Lennox Head. Venue hire is affordable and with incredible views furnishing the various event spaces there's very little budget required for styling. Amazing value!

8. The Woods Farm
LOCATION: Bayly Road, Tomerong, NSW 2540
CAPACITY: 200
ACCOMMODATION: Sleeps 120
WEDDING PACKAGES: BYO
The Woods Farm is a nature lovers paradise set on 40 acres immersed in native bushland just a few minutes from the beaches of Jervis Bay. If you're looking for a spectacular coastal destination, The Woods Farm is an incredibly unique destination that comes with a very special 3 day experience.
Starting with a welcome party hosted around the herb garden pizza oven, your guests can then settle around the camp fires in the glamping village. Your wedding the next day can be held on the beach or in the incredible bush chapel followed by a reception around the outdoor bar or in the chandelier hall. A poolside recovery brunch is hosted the next morning. 

9. Nelson Bay Lighthouse
LOCATION: Lighthouse Road, Nelson Bay, NSW 2315
CAPACITY: 100
CEREMONY PACKAGES: $550 - $950
The Inner Light Reserve behind the Nelson Bay Lighthouse is an affordable and private spot to exchange vows with ocean views as your backdrop. When you book this quiet & secluded garden for your wedding, the coastal walk leading to it is cordoned off to the public so you have exclusive use of the area to say "I do". 
The grass amphitheatre overlooking the ceremony "stage" has beautiful views to Shoal Bay Beach and Tomaree Headlands. Venue hire comes with chairs and chair covers and you can have light finger food served after getting married. 

10. Private Oceanfront Garden
LOCATION: Palm Beach, Sydney NSW

CAPACITY: 100

VENUE HIRE: $10,000
This private Sydney garden at an exclusive oceanfront estate in Palm Beach is available to hire for wedding ceremonies and photos. With over 2,500 sqm of Balinese-influenced gardens and top of the line lawns underfoot, this secluded waterfront residence offers a unique opportunity to exchange vows at one of the most prestigious properties on the Northern Beaches.
Access is available by road with plenty of street parking and there's a nearby jetty for waterfront arrivals. Bathroom facilities are available onsite and a marquee can be arranged for wet weather. Sorry, no receptions.
 View Private Oceanfront Estate
Oceanfront Venues in Sydney 

11. Jonah's Whale Beach
LOCATION: 69 Bynya Road, Whale Beach, NSW 2107

CAPACITY: 48 - 122

WEDDING PACKAGES: All inclusive
Jonah's is an award winning restaurant, hotel and ocean view wedding location with an uninterrupted vista over Whale Beach on Sydney's Northern Beaches. Wedding venues include an intimate cliff top garden which can be hired on its own for smaller weddings with up to 48 guests or together with the restaurant for exclusive use for up to 122 guests.
Jonah's offers sit down, cocktail and degustation menus with unique experiences including an oyster bar and interactive seafood station.

12. The Boathouse Shelly Beach
LOCATION: 1 Marine Parade, Manly, NSW 2095
CAPACITY: 200
WEDDING PACKAGES: From $195/pp including food, drinks & flowers
The Boathouse at Shelly Beach is a cocktail bar, restaurant, oceanfront wedding venue and favourite locals hangout spot. Wedding venues include a private upstairs space with ocean views over the beach and the front door is literally 2 steps from the sand. Downstairs a larger reception venue seats 80 or can cater for cocktail weddings for 200. 
 View The Boathouse Shelly Beach 

13. Orso Bayside
LOCATION: 79 Parriwi Road, Mosman, NSW 2088

CAPACITY: 180 seated, 250 cocktail

WEDDING PACKAGES: From $120/pp 
Orso Bayside is a quiet seaside wedding venue located at Middle Harbour adjacent to Sydney's iconic Spit Bridge. Ceremony & reception venues include a light-filled function room on the bay, outdoor deck and adjoining wharf which offers the opportunity to make a grand ceremony entrance by boat. 

14. Athol Hall
LOCATION: Bradleys Head Road, Mosman, NSW 2088

CAPACITY: 130 seated, 200 cocktail

WEDDING PACKAGES: All inclusive from $150/pp
Athol Hall is a beautifully restored heritage venue with its own private beach on Sydney Harbour. The stunning location offers sweeping water views to the Sydney Harbour Bridge and is the ideal secluded spot for seaside wedding photos. The expansive lawns are ideal for ceremonies and cocktail receptions with an ocean backdrop and the hall is a blank canvas to style for wedding receptions in any theme.

15. The Bathers' Pavilion
LOCATION: 4 The Esplanade, Mosman, NSW 2088

CAPACITY: 100 seated, 170 cocktail

WEDDING PACKAGES: All inclusive from $160/pp
The Bathers' Pavilion is a Mediterranean style wedding venue with a private function room and terrace for wedding ceremonies and receptions. The site offers heritage architecture, an oceanfront location, a blank canvas to style as your own and picturesque ocean views. 
Cocktail receptions start at $160 per person and sit down receptions from $175/pp. Ceremonies are usually held at the beach or local seaside parks.

16. Rocker Bondi
LOCATION: 39 Campbell Parade, North Bondi, NSW 2026

CAPACITY: 104

WEDDING PACKAGES: Tailored as required
Rocker at Sydney's iconic Bondi Beach is a casual European cafe, restaurant, bar and coastal wedding venue. The airy atmosphere is the ideal setting for laid back beach vibe wedding receptions. Expect a fresh seafood menu, warm breeze, and a local coastal town vibe.
---
---
South Coast Oceanfront Venues
A leisurely 2 hour drive south of Sydney is the peaceful region of the NSW South Coast. The choice of ocean view wedding venues here extends from luxury hotels and private farms to affordable beachside clubs and resorts.
You'll find seaside venues that offer you your own private beach for the weekend and places where your entire guest list can stay onsite. Here's a selection of the South Coast's most spectacular oceanfront wedding venues.

17. Kullindi Homestead
LOCATION: Booderee National Park, Ellmoos Rd, Jervis Bay NSW 2540
CAPACITY: 20 - 200
ACCOMMODATION: 5 units
WEDDING PACKAGES: BYO
Kullindi Homestead is an affordable waterfront wedding venue located on the banks of Sussex Inlet in Jervis Bay. The historic property features 5 self contained units and comes with a 2 night stay for up to 20 guests, with camping or glamping permitted for any extra people.
There is a huge lawn area on the waterfront that is perfect for outdoor wedding ceremonies and receptions. You'll need to hire in a marquees, tipis or a Sperry tent as there is no reception venue onsite, and BYO food & beverages. Food trucks are permitted. 

18. Mollymook Beachside Weddings
LOCATION: 72 Golf Avenue, Mollymook, NSW 2539
CAPACITY: 220

WEDDING PACKAGES

: From $124 per person
Mollymook Beachside Weddings is an affordable oceanfront venue located at Mollymook Golf Club. Reception venues include a function room with uninterrupted ocean views, a courtyard, golf course and beach. Reception packages start at $124/pp for cocktail weddings and $135/pp for seated menus with a 5 hour beverage service. 
 View Mollymook Beachside Weddings

19. Bangalay Luxury Villas
LOCATION: 30 Staples St, Shoalhaven Heads NSW 2535
CAPACITY: 60 seated, 120 cocktail
WEDDING PACKAGES: $600+/pp inc accommodation
Bangalay Luxury Villas is a coastal wedding venue and resort located next to Shoalhaven Golf Course. Landscaped gardens and an onsite restaurant provide an all-in-one location for ceremonies & receptions and there's 16 beach villas to accommodate all guests onsite. 
The resort can be hired for the exclusive use of your wedding with bookings of all villas, and there's a day spa, swimming pool and fire pit onsite. 

20. Nowra Culburra SLSC
LOCATION: 4 Farrant Ave, Culburra Beach NSW 2540
CAPACITY: 130
VENUE HIRE: From $2,200
The Nowra Culburra Surf Life Saving Club is a blank canvas reception hall on one of the South Coast's quietest and prettiest beaches. The reception venue sits above the club and features a large balcony with expansive ocean views.
Affordable venue hire includes use of a commercial kitchen for DIY wedding receptions. Bring your preferred caterers, BYO drinks and get married on the beach in front of the club.
---
---
Oceanfront Venues in Byron Bay
From the hinterland to oceanfront, Byron Bay offers a world-class selection of coastal wedding venues with spectacular ocean views. It is the perfect destination for laid back, seaside weddings and as a popular holiday spot offers plenty of places to stay and things to do including visiting world class eateries and award winning restaurants.
Many wedding venues in Byron Bay are private use, DIY locations with accommodation onsite. These venues make Byron Bay a popular destination for extended-stay wedding celebrations on the coast. 

21. Osteria
LOCATION: 1 Barclay Drive, Casuarina, NSW 2487
CAPACITY: 220 cocktail, 180 standing
VENUE HIRE: From $2,790
Osteria is an oceanfront wedding venue on the Tweed Coast 30 minutes north of Byron Bay. Wedding venues include a private garden and Spritz Bar, an industrial style reception hall and a late night Whiskey Bar.  Wedding packages include the option for shared feasts, alternate drop menus, or canapé packages and grazing platters for cocktail receptions. 
---
---
Central Coast Oceanfront Venues
An easy one hour drive from Sydney are the laid back beaches of the Central Coast. Being not as busy as Sydney's Northern Beaches, the Central Coast offers a more relaxed seaside atmosphere with all the benefits of a more populated area. There are plenty of cafes and restaurants, shops, sights and places to stay for your wedding guests, as well as some gorgeous oceanfront places to have your wedding photos taken.

22. Caves Coastal Bar & Bungalows
LOCATION: 

27 Mawson Cl, Caves Beach, NSW 2281

CAPACITY: 250
WEDDING PACKAGES: Start at $150/pp
Caves Coastal Bar & Bungalows is a hotel with luxury bungalows and beach villas that accommodate 200+ guests. Seaside wedding venues include The Boardwalk for ceremonies with 180 degree ocean views, two reception rooms and Caves Beach itself. Wedding packages include 5 hour room hire, a coastal menu & 5 hour beverage package.
---
---
Illawarra Oceanfront Venues  
The Illawarra is home to some of the most in-demand oceanfront venues in Australia. Centred around Wollongong, the area offers a choice of seaside venues as well as cliff top locations with panoramic water views over the local farming landscape out to the South Pacific Ocean.

23. City Beach Function Centre
LOCATION: 1 Marine Dr, Wollongong, NSW 2500
CAPACITY: 420
WEDDING PACKAGES: From $99 per head
City Beach Function Centre is an affordable coastal reception venue with uninterrupted ocean views. Ceremony sites nearby include the beach and lighthouse and the venue organises council permits for you. City Beach Function Centre caters for all types of ceremonies & receptions including Indian weddings with authentic Indian cuisine. 
 View City Beach Function Centre

24. The Sebel Harbourside Kiama
LOCATION: 31 Shoalhaven St, Kiama NSW 2533
CAPACITY: 200
WEDDING PACKAGES: From $119/pp. 
The Sebel Harbourside is a picturesque waterfront venue overlooking Kiama Harbour.  Wedding venues include function rooms, a marquee and manicured gardens on the harbour foreshore. Hotel accommodation caters for the entire guest list making The Sebel Harbourside a convenient location for extended weekend weddings in a popular coastal holiday spot. 
 View The Sebel Harbourside Hotel

25. Seacliff House
LOCATION: 139 Princes Hwy, Gerringong NSW 2534
CAPACITY: 180
VENUE HIRE: From $8,000
Seacliff House is a purpose built barn with stunning views over lush, rolling hills to the South Pacific Ocean. The barn's white interiors offer an elegant blank canvas to style in any wedding theme and the courtyard is the ideal spot for cocktails, canapes and a romantic first dance under the stars.
Several accommodation options are available onsite including a brand new luxury farmhouse with huge ocean-facing windows.

26. Panorama House
LOCATION: 811 Princes Hwy, Maddens Plains, NSW 2508
CAPACITY: 380 
WEDDING PACKAGES: From $70/pp
Panorama House is a cliff top wedding venue with spectacular 180 degree ocean views through floor to ceiling glass windows. Reception venues include three adjoining function spaces that cater for seated functions from 40 to 280 guests. 
A ceremony gazebo offers expansive coastal views over the Illawarra landscape and can be hired with or without a reception package. 

27. Tumbling Waters Retreat
LOCATION: 31 Stonehaven Rd, Stanwell Tops, NSW 2508
CAPACITY: 140
WEDDING PACKAGES: From $175/pp
Tumbling Waters Retreat is one of the most luxurious ocean view wedding venues in NSW. The stunning wedding spot features clifftop gardens and a restaurant which both offer panoramic seascape views.
12 Luxury suites with features including outdoor baths cater for wedding accommodation. Elopement packages are available from $3,825 and larger weddings can choose from cocktail and sit-down receptions from $175+ per person. 

28. Headlands Austinmer Beach
LOCATION: Headland Ave & Yuruga St, Austinmer NSW 2515
CAPACITY: 12 - 350
WEDDING PACKAGES: From $145/pp
Headlands is a private bar at Austinmer Beach that caters for affordable seaside wedding ceremonies and receptions. The venue's balcony is the ideal spot for ocean view wedding ceremonies with a panoramic backdrop of the South Pacific. Accommodation for 100 guests is available onsite in 50 serviced appartments. 
 View Headlands Austinmer Beach

29. Altitude 1148
LOCATION: Southern Gateway Centre, Princes Hwy, Bulli Tops, NSW 2516
CAPACITY: 140
WEDDING PACKAGES: From $79/pp
Altitude 1148 is a fine dining restaurant with panoramic ocean views over the Illawarra foreshore and Pacific Ocean. Wedding packages include catering of traditional Indian cuisine, 100% halal certified menus as well as modern Australian seafood with gluten free and vegetarian options.
---
---
Oceanfront Wedding Venues in Newcastle

30. Merewether Surfhouse
LOCATION: 5 Henderson Parade, Merewether Beach, NSW 2291
CAPACITY: 350
WEDDING PACKAGES: From $99.50/pp 
Merewether Surfhouse is an oceanfront reception venue, hotel and bar. The 2nd floor has a large open plan function space with 180 degree Pacific Ocean views. The venue can be sectioned for smaller events with movable sound proof walls.
---
---
North Coast Oceanfront Wedding Venues  
On the 600km of coastline from Newcastle to Ballina is a wonderful selection of seaside venues where you can get married on the sand or with the ocean as your backdrop. North Coast wedding venues include some of the most exclusive private locations in NSW and are among the preferred holiday spots of Australia's rich and famous.

31. The Banksias
LOCATION: 

1126 Point Plomer Rd, Crescent Head, NSW 2440

CAPACITY: 120
VENUE HIRE: From $20,000
The Banksias is a luxurious and secluded property with its own private waterway on the Macleay Valley Coast. The location provides a private and exclusive setting for waterfront weddings either on the estate's expansive lawns or at Goolawah surf beach nearby. 
The private coastal estate has its own golf course, accommodation for 18, plenty of space for a marquee and offers the freedom to plan your wedding your way. Typical spend is $500+ per person plus venue hire.

32. Saltwater Fingal Bay
LOCATION: 

1/3 Marine Dr, Fingal Bay, NSW 2315

CAPACITY: 150
WEDDING PACKAGES: From $135/pp
Saltwater Fingal Bay is a seaside restaurant with an open air balcony offering unobstructed ocean views across Fingal Beach. The balcony is an ideal spot for sand-free oceanfront wedding ceremonies, cocktail events and intimate sit-down wedding receptions. 
Fingal Bay is a popular coastal holiday spot with plenty of accommodation and things to do nearby, making Saltwater an ideal option for a destination wedding in NSW.

33. Villa Vivante
LOCATION: 

111A Bruxner Park Rd, Korora, NSW 2450

CAPACITY: 120
VENUE HIRE: From $20,000
ACCOMMODATION: 5 bedroom suites in 3 separate pavilions
The private Villa Vivante is an exclusive ocean view wedding venue just north of Coffs Harbour on the NSW North Coast. It is a French-inspired hilltop estate boasting a stunning 180 degree vista over the Pacific Ocean. Villa Vivante offers an absolutely private oasis with its own helicopter pad, in house caterers, butler service and concierge. 

34. Bombah Point

LOCATION: 

969 Bombah Point Rd, Bombah Point, NSW 2423

CAPACITY: 20 - 35
VENUE HIRE: From $5,000 including accommodation
ACCOMMODATION: 6 cottages sleep 5 in each
Bombah Point is a small coastal wedding venue with eco cottages at White Tree Bay in the Myall Lakes National Park. Wedding venues include a reception building, games room and fire pit that are surrounded by peaceful bushland and wildlife.
It's a short walk to the sea and the venue offers kayaks for hire offering plenty to do for extended stay weddings. A fully stocked kitchen and communal veggie and herb garden can be used to cater pre & post wedding events.
---
---
Oceanfront wedding venues in NSW offer some of the most spectacular ocean views in the world. From luxury private properties to affordable function spaces, you're sure to find your ideal wedding location on this list of stunning ocean view wedding venues.
Looking for more options? Check out the best waterfront wedding venues in NSW.