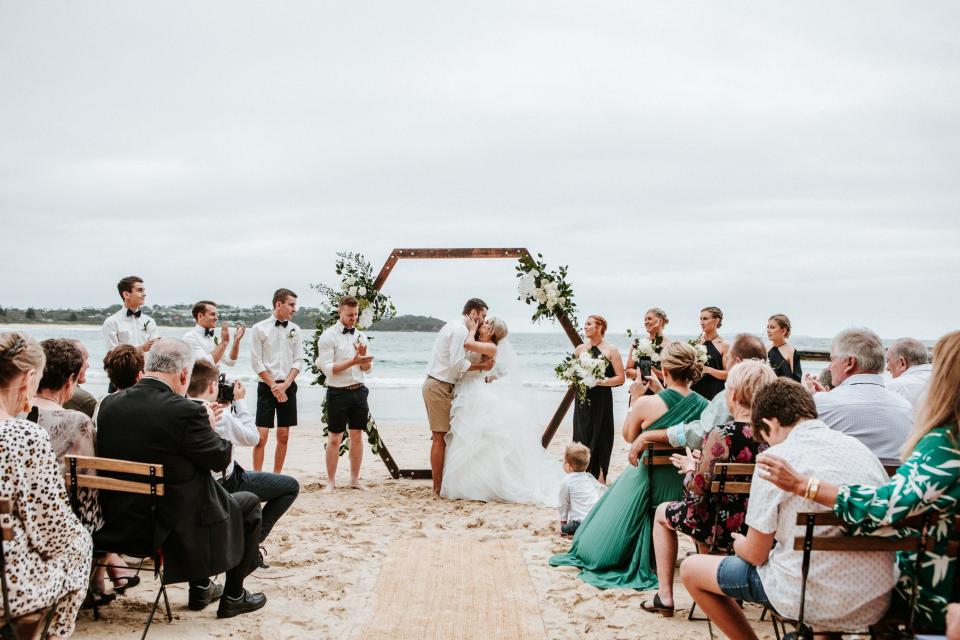 Australia offers an incredible choice of waterfront wedding venues, which is no surprise given we have one of the world's longest coastlines. From beachfront and clifftop venues with ocean views, to riverfront properties and lakeside retreats. There are literally hundreds of waterfront wedding venues in Australia, and a diverse selection of them are right here in NSW.
Between the popular holiday spot of Byron Bay in northern NSW to the less well trodden beaches on the state's far south coast, 2,137km of coastline, cliffs and national park provide a picturesque backdrop for many of the state's waterfront wedding venues. Here's a list of just beach wedding venues dotted along the NSW coast.
But it's not just oceanfront venues that make Australia one of the world's best wedding destinations. Our inland rivers and waterways provide the setting for some of the country's most Instagrammable wedding venues. From luxury oceanfront properties to affordable riverside retreats, here are 65 of our most recommended waterfront wedding venues in NSW.
Table of Contents
Blue Mountains Venues
Byron Bay Venues
Central Coast Venues
Hunter Valley/Newcastle Venues
Illawarra Venues
North Coast Venues
Riverina Venues
South Coast Venues
Southern Highlands Venues
Sydney Venues
Waterfront Venues in the Blue Mountains

1. Berry Hill Hawkesbury River
Location: 1832 River Road, Leets Vale, NSW

Capacity: 20 - 300

Accommodation: Sleeps 74+
Berry Hill is a brand new waterfront wedding venue with 2km of river frontage in the Hawkesbury. The 75 acre property is an undisturbed wilderness sanctuary that offers complete privacy for your 2+ day wedding. 
The expansive grounds are surrounded by a picturesque sandstone escarpment and offer a plethora of wedding ceremony locations. You create your own reception venue in the scenic outdoors with the use of onsite marquee, teepee or dome tent.
---
---
Waterfront Venues in Byron Bay

2. Midginbil Eco Resort
Location: 

252 Midginbil Rd, Midginbil NSW 2484

Capacity: 150
Accommodation: Sleeps 150+
Wedding Packages: BYO catering & drinks
Midginbil Eco Resort is a 3-day wedding venue in the Byron Bay hinterland with mid-week venue hire starting at $7,900. A short drive down the road is the waterfront ceremony venue of Crams Farm where couples having their wedding at Midginbil can choose to exchange vows.
Midginbil is a relaxed, holiday style wedding destination with lots of open gathering areas where you can spend time with wedding guests before & after your wedding. The property features two other ceremony areas onsite, a rustic and airy reception barn, bonfire site, swimming pool and tennis & volleyball courts.

3. Ancora Weddings
Location: 118 Wharf Street, Tweed Heads, NSW 2485
Capacity: 150
Accommodation: In Byron Bay
Wedding Packages: All inclusive $150/pp
Ancora Weddings is a mediterranean-style waterfront reception venue at Tweed Heads just north of Byron Bay. Modern interiors feature polished timber floors, fresh white walls, a statement marble bar and floor-to-ceiling glass windows. The space is filled with light and has a luxe airy vibe with beautiful water views over the inlet. 
Just 5 minutes from a choice of ocean front ceremony locations and with a wedding team onsite, Ancora Weddings is one of the easiest destinations for a waterfront wedding in Northern NSW. Menus are catered by UK celebrity chef Matt Kemp.

4. Riverside Ranch
Location: 151 Micalo Rd, Yamba NSW 2464


Capacity: 150

Accommodation: Available in Yamba

Wedding Packages: DIY/BYO
Riverside Ranch, otherwise known as Yamba Wedding Retreat, is a 50 acre wedding venue on 800 metres of picturesque & private river frontage. Just 2 km to Yamba's shops and accommodation, this Clarence River venue offers an affordable and convenient location for destination weddings. Packages start at $6,600.
There are 4 ceremony locations and 3 reception areas on the property, a bridal suite for getting ready, a mobile horse float bar and a unique pontoon from which you can go for a romantic paddle along the waterway 'Gondola' style. The Moondance Saloon is the main covered reception venue which was the original barn and horse stables.
---
---
Waterfront Venues on the Central Coast

5. Pullman Magenta Shores Resort
Location: 1 Magenta Drive, Magenta, NSW 2261

Capacity: 220 - 400

Accommodation: Apartment style hotel rooms
Wedding Packages: All inclusive + elopement packages from $79pp
Nestled between the Pacific Ocean and Tuggerah Lake, Pullman Magenta Shores offers a variety of waterfront destinations for your wedding ceremony & reception. The 52 acre property is the only 5 star resort on the central coast and offers stunning water views from all apartments.
The resort has 6 reception venues and a wedding ceremony area on the lakeside lawns. There's also beautiful landscaped gardens for your wedding photos featuring 3 swimming areas, a pool bar and 18 hole championship golf course. 

6. Caves Coastal Bar & Bungalow
Location: 27 Mawson Cl, Caves Beach NSW 2281


Capacity: 250

Accommodation: Bungalows

Wedding Packages: All inclusive
Caves Coastal Bar & Bungalow is a beachfront, all-in-one wedding venue with accommodation for 200. You can get married on the waterfront with stunning ocean views as your backdrop and guests are able to stay onsite after your wedding reception.
---
---
Waterfront Venues in Hunter Valley/Newcastle

7. Greystone Estate
Capacity: 32 - 110
Location: 

617 Hermitage Rd, Pokolbin, NSW 2320
Greystone Estate is a luxury estate set on 10 park-like acres of beautifully manicured lawns and gardens. Purpose-built for 32 guests to stay onsite for a luxury weekend away, the property comfortably caters for small weddings as well as those of up to 110 guests. 
A picturesque dam sets the scene for waterfront wedding ceremonies and there's an open air pavilion, modern function room and communal spaces throughout the main house that overlook views across the property. At Greystone Estate you have a private chef & 5 star wedding service available throughout your stay with 2 night venue hire from $13,800 (includes accommodation).

8. Adams Peak Country Estate
Location: 66 Adams Peak Rd, Broke NSW 2330


Capacity: 180

Accommodation: Sleeps 24
Wedding Packages: $7,000 mid week, $12,000+ weekend inc accommodation
Adams Peak Country Estate is an all-in-one wedding destination in the Hunter Valley and has a pretty dam with waterfront jetty in front of which you can tie the knot. A unique open-sided rustic wedding shed overlooks the dam and spectacular country views. Onsite house sleeps 20 + cabin sleeps 4.

9. Cypress Lakes
Location: 15 Thompsons Rd, Pokolbin NSW 2320


Capacity: 900

Accommodation: Hotel rooms & villas
Wedding Packages: All inclusive
At Cypress Lakes there are nine modern ceremony & reception venues that cater for small weddings & elopements to large gala events. Waterfront wedding ceremonies take place at the front of the property and there is a waterside rotunda that's ideal for intimate weddings. Golf course & spa onsite plus restaurant, bar and swimming pools.

10. Albion Farm Gardens
Location: 869 Paterson Rd, Woodville NSW 2321


Capacity: 120

Wedding Packages: Ceremony hire
Wedding ceremony venue with 15 acres of spectacular gardens and water features. Receptions can be held at nearby Woodville School of Arts.

11. Merewether Surfhouse
Location: 5 Henderson Parade, Merewether NSW 2291


Capacity: 350

Wedding Packages: All inclusive $145/pp
With 180 degree ocean views, Merewether Surfhouse is a waterfront reception venue with an impressive backdrop. Caters for weddings from 40 to 350 guests in the upper floor function centre.
---
---
Waterfront Venues in the Illawarra

12. Tumbling Waters Retreat
Location: 31 Stonehaven Rd, Stanwell Tops NSW 2508


Capacity: 120

Accommodation: Luxury suites
Wedding Packages: Ceremony only $55+/pp, all inclusive $210+/pp
Tumbling Waters Retreat is a stunning clifftop wedding venue with uninterrupted water views, magnificent gardens, surrounded in nature with 12 luxury suites. You can hire the gardens for a waterfront wedding ceremony or book the entire location including reception venue which has huge windows overlooking the bay.

13. Panorama House
Location: 811 Princes Hwy, Maddens Plains NSW 2508


Capacity: 380

Wedding Packages: All inclusive $95+/pp
Panorama House is a budget friendly waterfront venue with 180 degree cliff top views over the Pacific Ocean. You can hire the rotunda for your wedding ceremony only from $1,000 or the stunning water view backdrop is included with reception packages.

14. Seacliff House
Location: 139 Princes Hwy, Gerringong NSW 2534


Capacity: 180

Accommodation: Sleeps 20+ 
Wedding Packages: DIY/BYO
Seacliff House is a popular wedding venue that gets booked out more than a year in advance. The modern barn has stunning water views across lush countryside to the Gerringong headlands. Price guide for weddings at Seacliff House is in the vicinity of $250 - $400 per person.

15. The Sebel Harbourside Kiama
Location: 31 Shoalhaven St, Kiama NSW 2533


Capacity: 200

Accommodation: Hotel rooms
Wedding Packages: All inclusive 
The Sebel Harbourside Hotel is a budget friendly, waterfront wedding venue on Kiama Harbour. Reception venues include function rooms and garden marquee. You can have a waterfront ceremony on the harbour front lawns.
 View The Sebel Harbourside Kiama

16. Headlands
Location: Headland Ave & Yuruga St, Austinmer NSW 2515


Capacity: 350

Accommodation: Sleeps 100

Wedding Packages: All inclusive
Headlands is an affordable ocean front reception venue with several ceremony locations within minutes walk including Austinmer Beach and Glastonbury Gardens.  
---
---
Waterfront Venues on the North Coast

17. Goolawah Retreat
Location: 288 Point Plomer Rd, Crescent Head NSW 2440
Capacity: 30 - 150
Accommodation: Sleeps 32 + camping
Wedding Packages: Mid week $6,000, Weekend $10,000
Goolawah Retreat is one of the most affordable waterfront wedding venues in NSW. The 3 day packages from $6,000 include accommodation for 32 guests for 2+ nights. Simply hire in your choice of catering & beverages for a budget friendly destination wedding.
The property is located close to the ocean with a waterway between creating stunning views from the brand new reception pavilion. There are 5 refurbished cottages onsite and camping is permitted. More accommodation is nearby and the beach is a 2 minute drive.

18. Longview Farm
Location: 95 Longview Cl, Caffreys Flat NSW 2424

Capacity: 120

Accommodation: Sleeps 10+
Wedding Packages: week days $8,800+, weekends $14,000+
Longview Farm is a riverside country wedding venue with luxury onsite accommodation in a revolving house. With 1km of river frontage that meanders past the barn reception venue, waterfront wedding ceremonies and functions are idyllic here. 

19. Heaven Gardens
Location: 332 Lemon Tree Passage Rd, Salt Ash NSW 2318
Capacity: 120 Seated, 150 Cocktail
Accommodation: Available nearby
Wedding Packages: 3 day hire
Heaven Gardens is an affordable DIY & BYO wedding venue in the waterside destination of Port Stephens. The 5 acres of tranquil garden rooms features manicured lawns, rainforest boardwalks and a pavilion with adjoining dance floor. 
The pond with water fountain makes a beautiful backdrop for wedding ceremonies and garden parties for micro weddings and larger functions alike.

20. Stanley Park
Location: 77 Fullerton Cove Rd, Fullerton Cove NSW 2318
Capacity: 200
Accommodation: Sleeps 15
Wedding Packages: Day hire $8,000
Stanley Park is a grand 8 bedroom Victoria style homestead surrounded by 28 acres of park-like grounds on the glistening waters of Fullerton Cove. Not far from Port Stephens, Stanley Park offers an all-in-one destination for waterfront weddings with a choice of ceremony sites and a large barn for DIY/BYO weddings.

21. The Banksias
Location: 1126 Point Plomer Rd, Crescent Head NSW 2440


Capacity: 120

Accommodation: Sleeps 18+
Wedding Packages: DIY/BYO
The Banksias is a luxury waterfront wedding retreat where bush meets the sea. Weekend hire for your exclusive use. Price guide for wedding packages is $500 - $1,000 per head. You get your own private waterway just 200m from the ocean.

22. Saltwater Fingal Bay
Capacity: 150
Location: level 1/3 Marine Dr, Fingal Bay NSW 2315
Info: Idyllic beachfront wedding venue for ceremonies & receptions on the water. Plenty of accommodation available in this beach holiday region.

23. Villa Vivante
Capacity: 120
Location: 111A Bruxner Park Rd, Korora NSW 2450
Info: Luxury French-inspired hilltop estate with stunning ocean views and swimming pool. 

24. Tanilba House
Capacity: 90
Location: Tanilba House, 32 Caswell Cres, Tanilba Bay NSW 2319
Info: 6 bedroom heritage listed homestead on 3 acres of waterfront gardens in Port Stephens.
---
---
Waterfront Venues in the Riverina

25. Nimbo Fork Lodge
Capacity: 150
Location: 330 Nimbo Rd, Killimicat NSW 2720
Info: Secluded and picturesque waterfront wedding venue on the fork of Tumut River and Nimbo Creek. Accommodation for 22.

26. Tindarra Resort
Capacity: 250
Location: 79 Perricoota Rd, Moama NSW 2731
Info: 300m of river frontage for wedding ceremonies, cocktail parties and/or sit-down marquee receptions. Arrive by boat.

27. Perricoota Station
Capacity: 500
Location: Perricoota State Forest Road, Moama NSW 2731
Info: Rustic all-in-one wedding venue on 3.5km's of Murray River frontage. Arrive by boat to your waterfront wedding ceremony.
---
---
Waterfront Venues on the South Coast

28. The Cove Jervis Bay
Location: Ellmoos Road via Booderee National Park, Jervis Bay NSW 2540

Capacity: 200

Accommodation: Sleeps 126
Wedding Packages: DIY/BYO
At The Cove you have your own private waterfront resort for the weekend (or midweek). The resort has is very own secluded beach, a sandbar on which you exchange vows with your feet in the water or a waterside garden should you prefer to stay off the sand. 
The spacious grounds offer an intimate setting for 3 day wedstivals, with an outdoor pavilion, relaxed garden bar, seated dining and cocktail areas all set up amongst romantic festoon lighting and fairy lit trees. 

29. Willow Farm
Location: Galls Lane, Berry, NSW 2535

Capacity: 130

Accommodation: Sleeps 10
Wedding Packages: 3 days $22,000
Willow Farm is a 160 acre relaxed country venue with a secluded creek and picturesque dam for waterfront wedding ceremonies. The property features spacious outdoor areas, a rustic entertainment shed, a marquee and lawn games area and yoga barn. Wedding packages include venue hire with a 2 night stay in luxury farmhouse accommodation for 10 guests. 

30. Fig Tree Park
Location: 58 Sherringham Lane, Central Tilba, NSW 2546
Capacity: 2 - 200
Accommodation: Sleeps 2
Wedding Packages: All inclusive elopements, DIY/BYO larger weddings
Fig Tree Park is a brand new ocean-facing wedding destination on the Sapphire Coast of NSW. Situated high on a hill in beautiful European style gardens, the property offers a birds eye view of the surrounding countryside and glistening sea waters.
Fig Tree Park is available to hire for all-inclusive elopements of up to 10 guests and has romantic barn accommodation for the newlyweds onsite. Larger weddings are DIY with space on the manicured lawns for a marquee.

31. Bewong River Retreat
Location: 2395 Princes Hwy, Bewong NSW 2540


Capacity: 130

Accommodation: Sleeps 38+
Wedding Packages: 3 days
Bewong River Retreat is a DIY/BYO ceremony & reception venue on 160 acres of riverfront bushland. Bungalows for 38 + glamping.

32. NRMA Murramarang Beachfront Holiday Resort
Capacity: 20 - 120
Location: Banyandah Street, South Durras, NSW 2536
Info: Murramarang Beachfront Resort is one of the most affordable all-inclusive waterfront venues on the South Coast. The resort is located right on the beach and has stunning ocean views plus villas to accommodate all guests. Four reception venues cater for micro weddings of 20 - 40 guests up to functions of 120. 
 View NRMA Murramarang Beach Resort

33. Mimosa Wines
Capacity: 180
Location: 2845 Tathra-Bermagui Rd, Bermagui NSW 2546
Info: 200 acre property nestled between beaches & national park. Sweeping views.

34. Driftwood Shed
Capacity: 100
Location: 111 Terara Rd, Terara NSW 2540
Info: Rustic wedding venue on the Shoalhaven River. Private jetty and boat ramp.

35. Terara Riverside Gardens
Capacity: 120
Location: 135 Terara Rd, Terara NSW 2540
Info: 5 acres of beautiful gardens on the Shoalhaven River. Indoor spaces include the barn or greenhouse.

36. Worrowing Jervis Bay
Capacity: 180 
Location: 81 The Wool Rd, Worrowing Heights NSW 2540
Info: Historic 250 acre private property in Jervis Bay with 2 indoor spaces and unique accommodation including boat sheds and wilderness huts.

37. Bangalay Villas
Capacity: 88
Location: 30 Staples St, Shoalhaven Heads NSW 2535
Info: Landscaped garden venue ideal for outdoor reception on the coast. Restaurant for indoor receptions + 16 luxury villas.

38. Mollymook Beachside Weddings
Capacity: 220
Location: 72 Golf Ave, Mollymook NSW 2539
Info: Absolute beachfront wedding ceremonies and receptions. Budget friendly.
 View Mollymook Beachside Weddings

39. Cupitts Estate
Capacity: 150
Location: 58 Washburton Rd, Ulladulla NSW 2539
Info: Boutique winery, brewery & fromagerie with cottage accommodation for 4 & views to Burrill Lake.

40. Kianinny Bush Cottages
Capacity: 150
Location: 246 Tathra Rd, Tathra NSW 2550
Info: Weekend weddings on 100 acres of natural terrain with a freshwater lake as its centrepiece. Flexible packages.

41. Terara Park
Capacity: 180
Location: 174 Millbank Rd, Terara NSW 2540
Info: A 22 acre horse farm with dam, overhanging jetty & massive converted indoor arena barn. Ideal for laid back rustic weddings. 4 units available.

42. Tilba Valley Winery
Capacity: 100
Location: 947 Old Hwy, Corunna NSW 2546
Info: Family run boutique winery located at the scenic foothills of Mt Gulaga on the shores of Corunna Lake.
43. Kullindi Homestead
Capacity: 200
Location: Booderee National Park, Ellmoos Rd, Jervis Bay NSW 2540
Info: Historic homestead with spacious lawns on the edge of Sussex Inlet waterway. Five self-contained units + room for glamping.
Waterfront Venues in the Southern Highlands

44. Mali Brae Farm
Location: 562 Nowra Rd, Moss Vale NSW 2577


Capacity: 30 - 110

Accommodation: Complimentary for 2
Wedding Packages: All inclusive
Boutique wedding venue on 90 acres of idyllic grounds with water views of extensive dams, drystone wall features, sculptures and garden art, an old boat shed and jetty. 2 Reception venues include a large rustic barn and smaller luxe-rustic function room suitable for weddings of 30 - 55 guests.

45. Weddings in the Wilde
Capacity: 140
Location: 71 Ryans Ln, Wildes Meadow NSW 2577
Info: Budget friendly weddings with a festival feel. Accommodation for up to 140 guests.

46. Briars
Capacity: 200
653 Moss Vale Rd, Burradoo NSW 2576
Info: 15 acres of rural countryside with tranquil gardens, conservatory & lake-side gazebo in Bowral.

47. Bendooley Estate
Capacity: 250
Location: 3020 Old Hume Hwy, Berrima NSW 2577
Info: One of Australia's premier estates for weddings. From large formal weddings to more intimate and relaxed celebrations. Unique waterfront lake at it's centrepiece. Enquire early.
---
---
Waterfront Venues in Sydney

48. Long Reef Golf Club
Location: Anzac Avenue, Collaroy, NSW 2097
Capacity: 140 - 250
Wedding Packages: All inclusive from $130/pp (winter pricing)
Long Reef Golf Club on the Northern Beaches of Sydney offers waterfront wedding ceremonies and receptions overlooking Manly to the Central Coast. There is an outdoor terrace for drinks & canapés and golf buggies are provided with all wedding packages to transport the bridal party for wedding photos along the picturesque coastline nearby.

49. The Boathouse
Capacity: 200
Location: Governor Phillip Park, Palm Beach NSW 2108
Info: Sit down wedding receptions for 30 or larger cocktail weddings up to 200 guests. Absolute waterfront wedding venue at Palm Beach.

50. Ormeggio at the Spit
Capacity: 100
Location: D'Albora Marinas, Spit Rd, Mosman NSW 2088
Info: Relaxed and private boutique wedding venue looking onto stunning Middle Harbour and Pearl Bay. Flexible packages.

51. Pilu at Freshwater
Capacity: 60
Location: Moore Rd, Freshwater NSW 2096
Info: Spectacular ocean views and flexible packages for small weddings & elopements in Freshwater on the Northern Beaches.

52. Athol Hall
Capacity: 200
Location: Bradleys Head Road, Mosman, NSW 2088
Info: Located on Sydney Harbour, Athol Hall is an expansive waterfront venue with views to the Harbour Bridge and Sydney Opera House. The ceremony lawn leads down to a secluded beach that's an ideal spot for wedding photos. All-inclusive wedding packages from $105/pp.

53. Oliveto
Capacity: 250
Location: 443 Concord Rd, Rhodes NSW 2138
Info: Elegant Italian restaurant in Brays Bay Reserve with water views.

54. Beachside Dojo
Capacity: 150
Location: 2/55 N Steyne, Manly NSW 2095
Info: Hampton's style wedding venue on Manly beach with additional private dining rooms for intimate weddings of 20 - 80 guests.

55. Intercontinental Double Bay
Capacity: 495
Location: 33 Cross St, Double Bay NSW 2028
Info: Highly experienced in large cultural weddings. Sydney Harbour wedding venue located in the bayside village of Double Bay. Luxury guest accommodation.

56. Watsons Bay Hotel
Capacity: 350
Location: 1 Military Rd, Watsons Bay NSW 2030
Info: Iconic Sydney Harbour wedding venue with 32 boutique hotel suites. Ferry plus private boat access.

57. Jonah's Whale Beach
Capacity: 122
Location: 69 Bynya Rd, Palm Beach NSW 2108
Info: Nestled above Whale Beach with a spectacular cliff top garden, Jonah's offers intimate weddings for up to 48 guests or exclusive use weddings for up to 122 guests. 

58. Orso
Capacity: 250
Location: 79 Parriwi Rd, Mosman NSW 2088
Info: Absolute waterfront wedding venue in Middle Harbour, adjacent to the Spit Bridge in Mosman. Has its own beach, wharf, jetty and resident pelicans. 

59. Manly 16ft Skiff
Capacity: 150
Location: Cnr East Esplanade &, Stuart St, Manly NSW 2095
Info: Manly wedding venue with stunning water views of Sydney Harbour and captivating sunsets. 


60. Aqua Dining
Capacity: 150
Location: Northcliff St &, Paul St, Milsons Point NSW 2061
Info: Contemporary Italian restaurant with unrivalled views of Sydney Harbour. Situated at North Sydney Pool.

61. St Michael's Golf
Capacity: 200
Location: Jennifer St, Little Bay NSW 2036
Info: 180 degree uninterrupted views of the Pacific Ocean from the cliffs of Little Bay. Plenty of photo opportunities on this coastal golf course 20 minutes from Sydney.


62. Public Dining Room
Capacity: 110
Location: 2A The Esplanade, Mosman NSW 2088
Info: Quiet wedding venue on Balmoral Beach with private dining room for weddings up to 40 guests and a terrace up to 75. 

63. Ovolo Woolloomooloo
Capacity: 300
Location: 6 Cowper Wharf Roadway, Woolloomooloo NSW 2011
Info: Heritage-listed waterfront venue on Woolloomooloo Wharf with views of Sydney Harbour and a range of creative spaces for wedding ceremonies and receptions. 


64. Rocker Bondi
Capacity: 104
Location: 5/39-53 Campbell Parade, North Bondi NSW 2026
Info: Neighbourhood cafe, restaurant, bar and coastal wedding venue at Bondi Beach with a casual European feel.

65. Metro Mirage Hotel Newport
Location: 2 Queens Parade West, Newport NSW 2106
Capacity: 30 - 130
Accommodation: Hotel rooms
Wedding Packages: All inclusive
The Metro Mirage Hotel is a waterfront wedding venue in Pittwater that caters for weddings from 30 - 130 guests and sleeps 100.
---
---
Waterfront wedding venues are extremely popular in NSW with many couples opting to exchange vows in front of the picturesque backdrop of sparkling waterways. And it's not just ocean-front wedding venues that are in high demand, riverfront properties can also book out up to 18 months or more in advance. We recommend enquiring early with any of the wedding venues on this list, which you can do using the links provided.
Cover image by Red Berry Photography