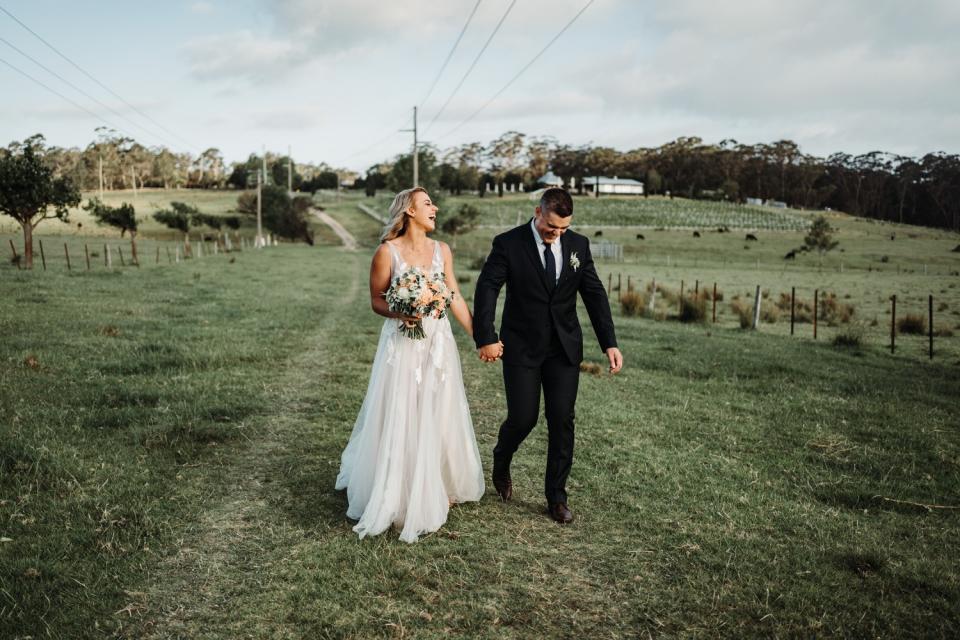 Planning a farm wedding on the NSW South Coast? Farm venues on the South Coast of NSW range from private estates in Jervis Bay to farm-stays in Nowra and the Sapphire Coast. If you want your ceremony in a farm paddock and your wedding reception in a barn, these South Coast farms are the ideal spots for you.
Get your gumboots ready because we've got loads of farm wedding venues to share with you here. Most South Coast farms offer wedding ceremony and reception venues all in the one spot with the additional benefit of being able to stay the night in farmsteads or cottages onsite.
And just a heads-up, because farm venues are all-in-one wedding locations they're often one of the first places to get booked out during peak wedding season. So make sure you enquire early! Here's a list of the most recommended farm wedding venues on the South Coast of NSW. 
Farm Venues on the South Coast

The Woods Farm
Capacity: 200
Location: Berry - South Coast, NSW
Reception Venue: Shed
Accommodation: Sleeps 120
The Woods Farm is a boutique country venue and a 40 acre wedding wonderland where you can stay with all of your guests a weekend away on the South Coast. The property is well suited to vintage and rustic weddings with the likes of old tractors and vintage wares dotting the landscape and chandeliers hanging from the trees. 
Wedding venues include a unique country chapel with spectacular garden arbor walk and a reception shed that seats 150 (or 200 with adjoining marquee). Accommodation is in 8 x 3 bedroom cottages and 18 glamping tents.

Willow Farm
Capacity: 130
Location: Berry, NSW
Willow Farm is a 160 acre rural wedding venue near Berry on the NSW South Coast. The location offers a quiet and private country setting for luxury farm weddings with accommodation for 10. Receptions can be held outdoors on the farm, in a BYO marquee, or in the rustic "entertainment shed".
Most couples have their wedding ceremony in a paddock under the ceremony tree. Wedding packages include exclusive venue hire with BYO catering and drinks.

Figbird Cottage
Capacity: 150+
Location: Terara, NSW
Figbird Cottage is a farm wedding venue surrounded by peaceful grazing paddocks. This all-in-one country venue offers English garden and lawn ceremonies, marquee + outdoor wedding receptions and accommodation onsite in two country cottages.
Wedding packages include affordable day hire from $3,000 or 3 day/2 night stays from $6,000. A relaxed DIY & BYO wedding venue neighbouring picturesque dairy farm land.

Growwild Wildflower Farm
Location: 916 Old Hume Hwy, Alpine, NSW 2575
Capacity: 30 - 145
Growwild Wildflower Farm is the prettiest farm wedding venue in the South Coast region. The secluded property features 25 acres of wildflower plantings, manicured lawns and two reception venues surrounded by peaceful native bushland.
With exclusive access to the entire farm for 24 hours, you can simply take your pick of ceremony areas and set up however you like. Outdoor receptions are popular within the gardens and there's a micro wedding barn or luxe garden marquee for indoor parties.

Driftwood Shed
Capacity: 100
Location: Terara, NSW
The Driftwood Shed is a rustic wedding venue on 5 country acres next to the picturesque Shoalhaven River. With it's own private jetty, boat ramp, 100 year old shed, ambling gardens and mountain views, Driftwood Shed offers a laid back setting for luxe farm weddings. Packages include exclusive hire of the venue including the permanent marquee, trestle tables and mismatched chairs for 100 people. BYO alcohol & catering. 

Greyleigh
Capacity: 200
Location: 

Long Brush Road, Jerrara, NSW 2533

Accommodation: Sleeps 16
Greyleigh is an historic farming property on 200 acres of rolling green hills and orchards on the NSW South Coast. With views to the Pacific Ocean, Greyleigh offers 4 country wedding venues for paddock ceremonies and barn receptions. Have your ceremony in the natural amphitheatre or gardens and a long table dinner in the orchard or reception in The Gables.

Worrowing Estate
Capacity: 180
Location: Jervis Bay, NSW
Worrowing Estate is a 250 acre private farm in the scenic South Coast town of Jervis Bay. The coastal property offers 12+ ceremony locations centred around the farm's dams and manicured country gardens. Reception venues include a renovated barn and shed, which offer luxe-rustic spaces filled with light and stunning views across the green fields.
Exclusive hire includes accommodation for up to 40 wedding guests in unique boat sheds and wilderness huts. Expect kangaroos in the late afternoons.

Terara Park Farm
Capacity: 180
Location: Nowra, NSW
Terara Park Farm is a 22 acre horse farm with a large converted indoor arena barn. Wedding venues include an overhanging jetty that makes a picturesque setting for outdoor ceremonies. The farm offers a laid back, waterfront setting for affordable rustic weddings in a peaceful rural setting. Accommodation on the farm includes 4 units that sleep 12 guests.

Cupitts Estate
Capacity: 150
Location: Ulladulla, NSW
Cupitts Estate is a farm, winery, brewery, fromagerie and South Coast wedding venue surrounded by lush, green paddocks and country views. Wedding ceremonies can be held on the farm and the restaurant provides the ideal blank canvas to style in your own wedding theme. Cupitts Estate offers accommodation in country cottages onsite.

Oaklands Farm & Event Centre
Capacity: 300
Location: Pambula, NSW
Oaklands Farm is one of the South Coast's largest barn wedding venues catering for rustic receptions of up to 300. The farm also has a beer barn that's ideal for pre & post wedding events such as a next day recovery brunch. Farm animals on the property include friendly horses, sheep and donkeys and the homestead gardens offer a private setting for country wedding ceremonies just a few steps from your accommodation.

Barn on the Ridge
Capacity: 130
Location: 24 Clyde Ridge Road, Morton, NSW 2538
Barn on the Ridge is a rural wedding venue on 55 acres of rugged farm land. The barn is a modern space with adjoining deck that overlooks stunning valley views across the South Coast countryside. A choice of wedding ceremony locations include paddocks, next to the dam or on the barn deck.
---
---
Farm Wedding Locations: South Coast
For the full farm experience including climbing over paddock fences in your whitest best there's plenty of working cattle and horse farms in the area.  All working farms have on-site accommodation so you can enjoy the property and it's furry inhabitants over several days.
If sharing the views with a Llama or two and collecting chook eggs is more your thing there's loads of farmlets and farm stay properties with DA approval for weddings.  These properties range in size and cater from elopements right up to weddings with 180 guests.
And if it's largely the fresh and relaxing country air you're looking for, many properties that double as event venues in the area are surrounded in neighbouring farm land.  These venues include wineries, breweries, estates and the like. Many of these venues are popular with couples as you can have a 'farm wedding' even though the venue isn't actually a farm itself. For more farm wedding options explore our complete list of Wedding Venues on the South Coast.  
Other South Coast wedding venues that you may be interested in are:
Barn wedding venues
Country wedding venues
Small wedding venues
Rustic wedding venues
Destination wedding venues
Whether you're wanting to cuddle furry creatures or soak up the relaxing country air, enjoy peace and privacy or take in the epic farmland views across hills and out to the ocean, the South Coast has a huge variety of farm style properties for every type of wedding experience. 
Farm Venues in the Illawarra
The Illawarra has several farm wedding venues, and they come with extra trimmings. There's a popular family-owned winery and microbrewery in Gerringong with views across rolling farm hills. There's a ceremony only wedding venue which offers the opportunity for rustic wedding photos. And there's a refurbished woolshed where you can style your own rustic wedding reception.
Farm Venues in the Southern Highlands
A convenient two hours from both Sydney and Canberra and nestled in the stunning bush surrounds of the Southern Highlands, are several working farms which are hugely popular for weddings. From the luxurious Bendooley Estate to historic Mali Brae Farm and the rustic Sylvan Glen Country Estate, find all the best farm wedding venues in the Southern Highlands. 
 View Farms in the Southern Highlands
Farm Venues in the Shoalhaven
Choosing a farm wedding in the Shoalhaven is exciting for everyone - both you, and your guests.  The landscape from its country paddocks to pristine white sand beaches, turquoise water and native bush surrounds makes it one of the most spectacular places in the world.  Adventure starts here!
For water lovers there's surf beaches, kite surfing, snorkelling, diving and paddle boarding.  If you're engaging in water sports try to avoid bumping into a whale :) From May to November the annual migration takes place and you'll easily spot whales heading to warmer waters from the coastline.  If you're having a spring wedding in the area, keep your eye out for the newborn whale calves on their way back south. 
Aside from the other aquatic wildlife attractions including seals, penguins and dolphins, you might also spot an elusive platypus if you're staying or getting married at one of the area's many farms.  Just about all farms have resident kangaroos, the area has a healthy population of wombats and the birdlife here is to behold.
Several South Coast farms have enough onsite accommodation to sleep your entire guest list. These farms enable you and your guests to stay for the weekend, hiring the property for your exclusive use of all facilities onsite.
The South Coast also has plenty of not-exactly-a-farm wedding venues surrounded by farmland.  There are wineries where cows graze in the surrounding paddocks.  There's a farmlet with affordable marquee options.  There's also a horse farm where you can enjoy a peaceful and private wedding ceremony on the banks of the Shoalhaven River followed by a rustic reception in the converted indoor arena. 
Whatever style of farm wedding you're planning, there's a property for it at a South Coast wedding venue.
Cover image: Translucent Photography @ Cupitts