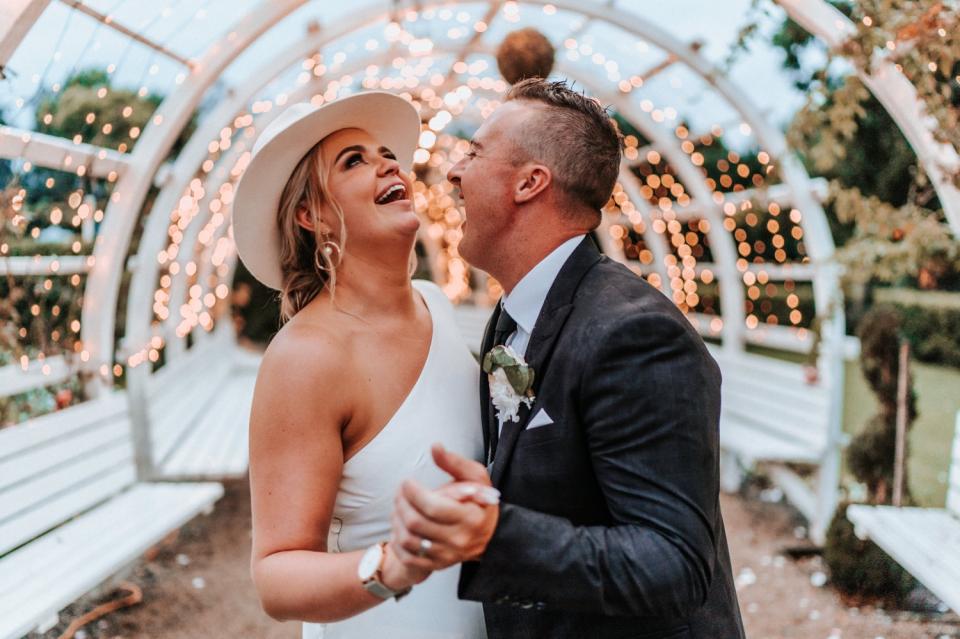 Unique wedding venues in NSW include an eclectic collection of stunning and unusual locations for ceremonies and receptions. From repurposed gaols and rustic barns to neon chapels and olive groves, if you're looking for a non-traditional wedding venue, you're in the right place. The unique wedding venues on this list are not your average places for a marriage ceremony or sit-down reception.
In curating this list of unique wedding venues we wanted to make available a selection of places that don't just offer a less traditional location for exchanging vows, but also provide unique and different experiences. Whether its iconic views, an outdoor location, hatted food, banging cocktails or funky decor with snow cone machines, all of the below wedding venues offer something a little bit different for your wedding guests to experience.
Unusual locations and special experiences are the two things that stand these wedding venues apart. From Sydney to Byron Bay, these are the most unique wedding venues in NSW.
Unique Wedding Venues in NSW
Sydney Venues
Hunter Valley Venues
South Coast Venues
Southern Highlands Venues
Blue Mountains Venues
Byron Bay/Northern NSW Venues
Central Coast Venues
Newcastle Venues
North Coast Venues
Off-the-beaten-track Venues
Unique Wedding Venues in Sydney


1. St Joseph's Guesthouse
Location: 

1029 St Albans Rd, St Albans, NSW 2775

Capacity: 100
Built in the ruins of a 160 year old church, St Joseph's Guesthouse is one of the most unique wedding venues in Sydney. The non-denominational 5 bedroom, 3 level stone building is an affordable spot to hire for destination weddings with accommodation for 10 onsite.
Surrounded by a peaceful country landscape and picturesque views, the grounds are picture perfect for intimate day-time weddings of up to 100 guests. You can get married on the steps under the original church bell and have an outdoor reception on the lawns or there's a function space on the ground floor that seats 60 or fits 100 for a cocktail event. 

2. Australian Botanic Gardens Mount Annan
Location: 362 Narellan Rd, Mount Annan, NSW 2567
Capacity: 200
The Australian Botanical Gardens in Western Sydney has several unique spots for garden wedding ceremonies. This secluded rainforest location can be hired for your private use, and there are also lakefront areas and woodland backdrops to choose from.
Reception venues at the gardens include the Bowden Function Centre which offers all inclusive and BYO wedding packages, marquee lawns where you can DIY an outdoor reception and there is a brand new exciting space opening in 2022. 
 View Australian Botanic Gardens 

3. The Freedom Hub Ethical Weddings
Location: 283 Young Street, Waterloo, NSW 2017
Capacity: 100 seated, 150 cocktail
The Freedom Hub is an urban warehouse space that operates as a cafe and unique wedding venue to support a worthwhile cause. 100% of profits go towards supporting people in Australia who have experienced modern day slavery or human trafficking.
The large, open plan reception venue is the perfect blank canvas to style in any wedding theme. Venue hire starts at $2,000 and flexible wedding packages include fully DIY to all-inclusive with ethical caterers and suppliers.

4. Hazelhurst Cafe
Location: 782 Kingsway, Gymea, NSW 2227
Capacity: 10 - 180
Hazelhurst Cafe is a celebratory riot of art, culture and nature. Painted canvas sheets hang from the walls and the bar feels like one step from your artist's easel. It's a laid back and highly distinct wedding venue with an earthy rustic appeal that makes you want to take your shoes off and wander in the stunning gardens.
Located within the Hazelhurst Arts Centre, there's plenty of wedding ceremony locations, a variety of spots for photos and the whole reception venue is provided for your exclusive use when booked for weddings. 

5. Aqua Dining
Location: Paul Street, Milsons Point, NSW 2061
Capacity: 108 sit down, 120 cocktail
With uninterrupted views over North Sydney pool to the iconic Sydney Harbour Bridge, Aqua Dining is a truly unique reception venue. While enjoying 5 star harbour views, guests are served a contemporary Italian menu with a-la carte and cocktail options from $150/head. Great locations for wedding ceremonies nearby include Lavender Bay and Mary Booth Lookout Reserve.

6. The Grounds of Alexandria
Location: 7 Huntley Street, Alexandria, NSW 2015
Capacity: 6 - 400
No list of non-traditional wedding venues in Sydney would be complete without The Grounds of Alexandria. The venue's individually unique spaces include a Parisian parlour, heritage ballroom with exposed bricks and fairy light canopy, a lush green atrium and a garden patio with checkerboard floor tiles. There's even a fun, neon pink kissing booth.
This urban garden oasis offers wedding packages from $140/pp and caters for micro weddings & elopements from 6 guests to 400+. 

7. Three Williams Cafe
Location: 613A Elizabeth Street, Redfern, NSW 2016
Capacity: 70 seated, 120 cocktail
Three Williams Cafe is a large and cosy space hidden below street level in Sydney's leafy inner city suburbs. The urban warehouse oozes rustic charm and offers an intimate atmosphere for wedding ceremonies and receptions of all denominations. From Lebanese drummers to Vietnamese lion dancers, this alternative wedding venue is welcoming to all quirks and cultures. Affordable wedding packages start from $110/pp.

8. Kittyhawk
Location: 16 Phillip Lane, Sydney, NSW 2000
Capacity: 110 seated, 175 cocktail
Oozing old world charm, Kittyhawk is one of Sydney's most romantic inner city wedding venues. With decor themed around the liberation of Paris in 1944, the walls feature dark and moody wood paneling, rich copper fixtures and a celebratory warmth that's perfect for wedding receptions. Wedding packages start at $5,000 and include a delightful menu of French cuisine and optional signature cocktails. Cross styling off your budget at this unconventional wedding venue - the decor does it for you. 

9. University of Sydney
Location: Science Road, Camperdown, NSW 2050
Capacity: 10 - 500
Rich tapestries, stained glass windows, embellished curtains, and high, imposing ceilings make The Great Hall and Refectory at the University of Sydney one of the city's most unique wedding venues. The beautiful grounds offer stunning wedding ceremonies and photos and a choice of heritage reception venues cater for small weddings of 20 to large events for 500+.

10. Berowra Waters Inn
Location: Berowra Waters Road, Berowra Heights, NSW 2082
Capacity: 80 
Berowra Waters Inn is an iconic wedding venue offering a culinary sensory experience in one of Sydney's most unique locations. Accessible only by boat, this modern Australian restaurant sits amongst native bushland on Berowra Creek off The Hawkesbury River. The setting is peaceful & relaxed, the views are serene and the degustation menu and experience is world class. 

11. Rocker Bondi
Location: 39 Campbell Parade, North Bondi, NSW 2026
Capacity: 124
Rocker Bondi is a casual beachside hangout and neighbourhood cafe that you can hire exclusively as your reception venue. This non-traditional wedding venue offers a laid back, European vibe with both formal and informal spaces to work with. From the Terrace that seats 20 to the bar and restaurant, Rocker Bondi offers versatile spaces of various sizes to suit small weddings and elopements of up to 124 guests. Get married in one of Sydney's most iconic locations.

12. Clovelly Surf Club
Location: Donnellan Circuit, Clovelly, NSW 2031
Capacity: 100 sit down, 150+ cocktail 
There are very few absolute beachfront wedding venues in Sydney that offer affordable wedding packages with stunning ocean views. Clovelly Surf Club is one of them. What differentiates this venue is undoubtedly the spectacular views. And the ability to have your wedding ceremony on the venue's adjoining deck overlooking the ocean. Wedding packages start at $125/pp including food & drinks.

13. Mejico
Location: 105 Pitt Street, Sydney, NSW 2000
Capacity: 50
This Mexican restaurant is a less-than-ordinary reception venue in the very centre of Sydney's CBD. From street snacks to tacos to guacemole smashed at the table side, Mejico offers experiential dining along with Australia's largest selection of tequila. Exclusive venue hire is available with wedding packages from $142 per person.

14. Morso Events
Location: Jones Bay Wharf, Pirrama Road, Pyrmont, NSW 2009 
Capacity: 60 sit down, 130 cocktail
Morso Events is an intimate and moody Sydney wedding venue located on the historic Jones Bay Wharf at Pyrmont. 
The heritage architecture and stunning harbour views provide a spectacular setting for wedding ceremonies and a unique location for wedding receptions. Morso specialise in chic cocktail events and A-La Carte weddings that allow guests to order from the menu. Wedding packages from $135 per person.
---
---
Unique Hunter Valley Wedding Venues

15. Greystone Estate
Location: 

617 Hermitage Rd, Pokolbin, NSW 2320

Capacity: 32 - 110
Greystone Estate is a Hamptons-style private estate that caters for luxury weddings where 32 guests can stay the weekend. The property features a purpose-built open air pavilion that provides a unique location for modern wedding ceremonies and there's a stunning all-white reception venue that seats 110.
Smaller weddings are catered at the main homestead with an open plan layout seamlessly roaming from indoor to outdoor areas. A swimming pool, games room, commercial kitchens and butlers pantry are just a few of many additional features that set this property apart from other estate style wedding venues.

16. Chateau Elan
Location: Vintage Dr, Rothbury, NSW 2320
Capacity: 170
Chateau Elan has the largest day spa in the southern Hemisphere and is one of the most luxurious resorts and wedding venues in NSW. Located at The Vintage in the Hunter Valley, Chateau Elan offers a choice of unique ceremony and reception venues including The Carriage House - a religiously neutral chapel with adjoining courtyard that's ideal for long table weddings. Arrive by helicopter and stay in luxury villas onsite with views over the Greg Norman designed golf course.

17. The Woodhouse Wollombi
Location: 2674 Paynes Crossing Rd, Wollombi NSW 2325
Capacity: 150
The Woodhouse Wollombi is one of the newest purpose-built barns in NSW. The striking architecture makes this unusual wedding venue the centrepiece on 100 bushland acres surrounding a picturesque lake. Available for exclusive hire with barnstay accommodation for up to 16 guests, it's an ideal and unique location for private country weddings. Wedding packages include accommodation for 16 from $7,000.

18. Adams Peak Country Estate & The Barn
Location: 66 Adams Peak Rd, Broke NSW 2330
Capacity: 180
It's a combination of benefits that makes Adams Peak one of the most unique wedding venues in NSW. From the stunning views from a choice of ceremony spots, to the pet friendly policy and rustic barn. Reception venues even include the option of an outdoor wedding on the lawn.
Wedding packages start at $10,000 and include exclusive property hire with 2 nights accommodation for 24 people onsite. There's accommodation for everyone else within 5 minutes drive.
 View Adams Peak Country Estate

19. Lonely Goat Olives
Location: 153 Eglinford Ln, Congewai NSW 2325
Capacity: 50
Lonely Goat Olives is an outdoor wedding venue & olive grove surrounded by grazing Highland Cattle on the outskirts of the Hunter Valley. Completely powered by solar energy, the unique venue is ideal for small, day time weddings at a choice of spots with panoramic country views. Wedding & elopement packages start at $4,000 and include accommodation for 2 nights and exclusive use of the venue for 3 days. Bring all your own suppliers.

20. Redleaf Wollombi
Location: Redleaf, 2480 Wollombi Rd, Wollombi NSW 2325
Capacity: 250
No other estate brings European luxury to the Australian landscape quite like Redleaf Wollombi. This unique wedding venue and 6 bedroom Italian villa is located on 100 secluded acres in the peaceful Hunter Valley. With a Tuscan courtyard and 10 acres of manicured gardens there are plenty of private and unique locations for elegant country weddings.
As a DIY wedding venue with plenty of places for pre & post wedding events, bring all your own suppliers and stay for a weekend or an entire week.

21. White Barn Pokolbin
Location: 290 Old N Rd, Pokolbin NSW 2320
Capacity: 150
Resplendent in over 500sqm of floor space and with 8m high cathedral ceilings, the grand White Barn is as impressive as it is different. The unique wedding venue is surrounded by 30 private acres of Hunter Valley vineyards and offers spectacular views over the lush green hills of the Hunter Valley's Brokenback Ranges. 
With a fresh blank palette, this Hamptons style country barn provides the perfect canvas for DIY weddings. All inclusive packages start at $155/head and ceremonies are pet friendly.
---
---
Unique South Coast Wedding Venues

22. The Cove Jervis Bay
Location: Ellmoos Road via Booderee National Park, Jervis Bay NSW 2540
Capacity: 200
The Cove Jervis Bay is a secluded wedding venue located via a 13km rainforest drive through Booderee National Park. This exclusive wedding location is a nature lovers paradise filled with birdlife, kangaroos and the sound of the ocean. The venue offers your own private beach, accommodation for 126 guests in self contained holiday shacks, free kayaks & paddle boards, a boat ramp and function room.
The Cove is a unique place for a beachfront getaway with your entire guest list. Wedding packages start from $10,000.

23. Bush Chapel - The Woods Farm
Location: Bayly Road, Tomerong, NSW 2540
Capacity: 200
From the pages of a fairytale, The Woods Farm delivers one of Australia's most romantic and unique wedding venues. Located minutes from the coast, the 40 acre wedding wonderland welcomes 120 of your guests to stay with you onsite for the weekend.
A favourite feature of this farm-stay style property is the one-of-a-kind open air bush chapel with its meandering garden arbor walkway providing a grand entrance to your wedding ceremony. The luxe-rustic reception venue is no less spectacular, adorned in a selection of vintage chandeliers.

24. Willow Farm
Location: Berry - South Coast, NSW
Capacity: 130
With a huge 160 acres exclusively yours for the weekend, Willow Farm is a uniquely relaxed location for country weddings. The property features a flexible layout with spacious outdoor areas, a rustic entertainment shed, a marquee and lawn games area, yoga barn (and wet weather ceremony venue) and plenty of spots including a picturesque creek for wedding ceremonies & photos. 
The flexible layout of Willow Farm ensures every wedding is different. Use the rustic shed for dancing or dining, have a marquee reception instead, or dine and dance under the stars.

25. Figbird Cottage
Location: 330 Comerong Island Rd, Terara NSW 2540
Capacity: 150+
Figbird Cottage is a DIY wedding venue with the largest European-made marquee in the Shoalhaven. This unique location offers stunning English gardens, expansive lawns which are perfect for outdoor weddings and is surrounded by picturesque farmland.
Affordable wedding packages start from $3,500 or weekend hire including 2 nights accommodation for 8 guests from $6,000. BYO food trucks for a festival style wedding with all furniture and festoon lighting included with venue hire. You won't find a more affordable wedding venue on the South Coast.

26. Ravensthorpe Guesthouse & Restaurant
Location: 56 Tongarra Rd, Albion Park, NSW 2527
Capacity: 200
Accommodation: Sleeps 14
The romantic Georgian Manor of Ravensthorpe is a uniquely romantic wedding venue situated in the Illawarra. The Guesthouse is enveloped by 3 acres of beautifully manicured gardens complete with a picture-perfect, vine covered ceremony rotunda featuring an elegant chandelier.
Ravensthorpe Guesthouse enjoys stunning countryside views with a picturesque mountain backdrop and is ideal an ideal location for all-in-one weddings where you can have your photos onsite and stay the night too. At Ravensthorpe, the little luxuries make all the difference. Expect added extras like a recovery breakfast with your wedding package.

27. Wedding Shed - The Woods Farm
Location: Bayly Road, Tomerong, NSW 2540
Capacity: 200
The Wedding Shed at The Woods Farm is a rustic reception venue with a difference. It is hung with an eclectic collection of vintage chandeliers making the space ideal for luxe-rustic wedding celebrations. The space seats 150 and you can add a marquee for numbers of up to 200.
Along with the property's Bush Chapel, The Woods Farm offers a highly memorable destination for weekend long weddings where your entire guest list stays onsite with you. Accommodation for 120 is available in 3 bedroom cottages and a permanent glamping village. 

28. Driftwood Shed
Location: 111 Terara Rd, Terara NSW 2540
Capacity: 100
The Driftwood Shed is a DIY wedding venue on 200m of Shoalhaven River frontage. The park-like grounds feature a private jetty, boat ramp and permanent arbor made from railway sleepers that provide picturesque settings for wedding ceremonies & photos. 
What sets this venue apart is the rustic shed filled with old farming wares that sits next to the permanent wedding marquee. Wedding packages include venue hire with mismatched chairs and trestle tables. BYO alcohol & catering. 

29. Kullindi Homestead
Location: Booderee National Park, Jervis Bay NSW 2540
Capacity: 20 - 200
Kullindi Homestead is a unique ceremony and reception venue on the edge of the Sussex Inlet waterway. The spacious lawns surrounding the historic homestead offer an outdoor location for private waterfront ceremonies and BYO wedding receptions. Pitch a marquee or teepee, bring food trucks and stay the weekend in five self-contained units, plus there's plenty of space for glamping.

30. Kianinny Bush Cottages
Location: 246 Tathra Rd, Tathra NSW 2550
Capacity: 60 - 150
Kianinny Bush Cottages is an all-in-one event venue with self contained accommodation for the entire guest list. The 100 acre bushland property is located 5 minutes from the beach on the Sapphire Coast and offers a fun choice of things to do onsite. From canoeing & zip-lining to mini putt and archery, Kianinny promises a weekend wedding no one will forget in a hurry.
Wedding venues include two covered pavilions that can also be used for pre & post wedding BBQ's, and a choice of bushland sites for wedding ceremonies. All-inclusive wedding packages start at under $90 per person. Kianinny is one of the most budget friendly and unique South Coast wedding venues.

31. Worrowing Estate
Location: 81 The Wool Rd, Worrowing Heights, NSW 2540
Capacity: 180
Located in the ever-popular wedding destination of Jervis Bay, Worrowing Estate is among the most sought after coastal wedding venues in NSW. The 250 acre farm boasts 12+ ceremony locations, a huge variety of wedding photo opportunities including formal gardens and 2 unique reception venues in refurbished & light-filled sheds.
One of the most unique features of Worrowing is the choice of accommodation. Boat sheds surround the property's dams,  wilderness huts made of reclaimed timber provide views over Jervis Bay National Park and Worrowing House, originally the property's horse stables together sleep up to 40 wedding guests. 

32. Terara Riverside Gardens
Location: 135 Terara Rd, Terara NSW 2540
Capacity: 120
Terara Riverside Gardens is a DIY wedding venue with 5 acres of stunning gardens on the Shoalhaven River. Blending country views over lush green paddocks to the Cambewarra Ranges with the colourful blooms of Jacarandas and Crape Myrtles, the gardens are one of the most picturesque wedding venues in the Shoalhaven. 
From ceremonies on the river's edge to receptions in a Greenhouse and dancing in a barn, Terara Riverside Gardens offers unique wedding experiences in a laid back country location. Packages include 3 day venue hire. BYO catering and drinks. 

33. Paperbark Camp
Location: 571 Woollamia Rd, Woollamia NSW 2540
Capacity: 100
It's not hard to argue that Paperbark Camp is the most unique wedding venue on the NSW South Coast. This eco-friendly bush retreat offers an all-in-one wedding experience, with ceremonies in native Aussie bushland, treetop wedding receptions and luxury accommodation in deluxe safari tents. 
Wedding receptions in the treetop Gunyah start at $170pp with the option for gourmet shared banquets, stand up cocktails or formal sit down dinners. 

34. Wildwood Kangaroo Valley
Location: 407D Bendeela Rd, Kangaroo Valley NSW 2577
Capacity: 90
Wildwood is an eco-friendly wedding venue on 100 acres of unique Australian bushland and rainforest. Perched atop a sandstone escarpment with stunning views across the valley canopy, Wildwood weddings enjoy complete privacy and seclusion. Flexible wedding packages cater for small weddings and exclusive elopements with all-inclusive and DIY options.

35. Seacliff House
Location: 139 Princes Hwy, Gerringong NSW 2534
Capacity: 180
Seacliff House has one of the first purpose-built barns for weddings on the South Coast and with the recent addition of an impeccably designed, luxury farm house, is one of the most unique wedding venues in NSW. Offering an elegant, blank canvas ceremony & reception space overlooking lush green farmland to the ocean, Seacliff House is the ideal spot for a destination country wedding within 2 hours of Sydney.
---
---
Unique Southern Highlands Wedding Venues

36. Rustic Ruins - Mali Brae Farm
Location: Moss Vale - Southern Highlands, NSW
Capacity: 110
The Ruins at Mali Brae Farm is perhaps the most unique ceremony venue in NSW. Located at the front of the property close to the reception venues, the ruins are easily accessed for guests and there's no need for an arbor or styling if you are looking for a backdrop that's a little different.
On the 90 farm acres you'll find 6 ceremony venues, acres of landscaped gardens, historic ruins, heritage accommodation and stunning country views over the property's dams. There's 2 reception venues to cater for small weddings of 10 - 55 guests or larger weddings up to 110.

37. Growwild Wildflower Farm
Location: Alpine - Southern Highlands, NSW
Capacity: 50 - 130
Growwild is a native Australian wildflower farm that provides fresh cut flowers to the Sydney Flower Market. The 25 acre picturesque property provides a unique location for two wedding venues. The clear walled marquee caters for wedding receptions of up to 130 guests while the luxe rustic barn caters for intimate weddings of up to 50 guests.
Growwild Wildflower Farm is a budget friendly venue where you can BYO alcohol & catering and hire the grounds for your exclusive use.

38. Augustine's Room - Mali Brae Farm
Location: Moss Vale - Southern Highlands, NSW
Capacity: 30 - 55
Augustine's Room at Mali Brae Farm opened to the public late in 2021 providing a unique reception venue for small and intimate weddings. The purpose built wedding space features floor to ceiling glass windows that immerse wedding guests in the surrounding countryside views. There's no other space quite like it.

39. Reception Barn - Growwild Wildflower Farm
Location: 916 Old Hume Hwy, Alpine, NSW 2575
Capacity: 50
The Reception Barn at Growwild Wildflower Farm is a luxe rustic reception venue ideal for small weddings of up to 50 seated guests. Use of the barn is included with all wedding packages and with it you get exclusive use of the entire 25 acre farm to have your ceremony & photos all in the one location.
Beautifully maintained garden paths connect native wildflower plantings, natural bushland and manicured lawns. If its raining, you can utilise the clear walled permanent marquee for your wedding ceremony.

40. Weddings in the Wilde
Location: 71 Ryans Ln, Wildes Meadow NSW 2577
Capacity: 200
Immersed in the privacy of rainforest and with 40 acres to play with, Weddings in the Wilde provides a relaxed blank canvas to plan your own unique wedding surrounded by the people you love all weekend. Amenities include a rustic log chapel, wood floor marquee, relaxed outdoor location that's perfect for festival weddings and affordable accommodation for up to 140 guests.
Weddings in the Wilde is one of the only wedding venues in NSW with a late curfew and accommodation for the entire guest list. 

41. Sylvan Glen Estate
Location: Penrose - Southern Highlands, NSW

Capacity: 140
Sylvan Glen is a bespoke wedding venue surrounded by 60 private acres of vineyards and ecologically protected woodlands. With guesthouse accommodation for up to 62 and its own 9 hole golf course exclusive to guests, Sylvan Glen is the ideal country weekender for a destination wedding in the Southern Highlands. Nature lovers will enjoy sharing this bush landscape with daily wildlife visitors including Kangaroos.

42. Bendooley Estate
Location: Berrima - Southern Highlands, NSW

Capacity: 250
From the intimate setting of the iconic Berkelouw Book Barn to the majestic Stables with grand cathedral style glass windows, Bendooley Estate boasts several of the most unique wedding venues in NSW. Across the 200 spectacular acres at this destination, you'll find a picturesque lake with pavilion, scenic farmland, private gardens, a peaceful vineyard and luxury cottage accommodation for up to 20 guests. Enquire early.
---
---
Unique Blue Mountains Wedding Venues

43. Lithgow State Mine
Location: 3A State Mine Gully Rd, State Mine Gully, NSW 2790
Capacity: 150
This decommissioned coal mining site is one of the more unusual wedding venues in NSW and the stunning setting is not one your guests will forget in a hurry. Which is probably why the historic Bath House with its industrial blank canvas has become one of the most popular locations for styled wedding shoots in NSW. 
Surrounded by relics of a bygone era, the heritage venue offers panoramic mountain views and plenty of spots for stunning wedding photography. Wedding packages include venue hire and the ability to DIY & BYO all other suppliers.

44. Australian Bushland Weddings
Location: 

Webbs Creek Road, Wisemans Ferry, NSW 2775

Capacity: 250
This aptly titled wedding venue with a difference provides your own private bush camp for the weekend. Choose from two camps with rustic all-weather event sheds, scenic ceremony spots and accommodation for 200+ onsite. Affordable wedding packages start at $77/pp including venue hire, accommodation & late curfew. 
 View Australian Bushland Weddings

45. Secret Creek Cafe
Location: 

35 Crane Rd, Lithgow, NSW 2790

Capacity: 

70 Seated. 150 Cocktail
Secret Creek Cafe is a vegan eatery located within a 200 acre native wildlife sanctuary that's home to Wallabies, Emus, Dingoes and Tasmanian Devils. Surrounded by native bushland and rural ambience, the cafe offers a very private and secluded location for peaceful, rural weddings. Flexible wedding packages follow an 'eat sustainably' philosophy and start at $40 per person.
---
---
Unique Wedding Venues in Byron Bay

46. Midginbil Eco Resort
Location: 252 Midginbil Rd, Midginbil, NSW 2484
Capacity: 150
Midginbil Hill Eco Resort is a 400 acre farm with expansive views over lush rainforest and rolling hills in the Northern Rivers of NSW. Offering a budget friendly and less traditional wedding location, the farm is ideal for 3 day stay & play gatherings with your entire guest list. Accommodation includes unpowered camp sites, bunkhouse beds, lodge rooms and glamping in bell and safari tents. The venue features a rustic barn for DIY wedding receptions with a chilled country vibe.

47. Forget Me Not Farm
Location: 

589 Coopers Shoot Rd, Coopers Shoot, NSW 2479

Capacity: 

30 - 200+
Forget Me Not Weddings is a 100 acre working cattle farm in the Byron Bay hinterland. Just a few minutes from the charming village of Bangalow, the private setting offers a wonderful choice of outdoor ceremony locations with stunning farmland views over a picturesque dam and award winning gardens. A tipi site accommodates wedding receptions of up to 200 guests and the homestead's undercover deck caters for small outdoor wedding receptions for up to 36 people.

48. The Earthhouse
Location: 

334 James Gibson Rd, Corndale, NSW 2480

Capacity: 120
The Earthhouse is a unique wedding venue with mediterranean style architecture made of rammed earth. Located on 100 farming acres in the Byron Bay hinterland, the rustic ridge-top venue boasts extensive views across gardens and stone walls to the mountains beyond. Boutique B&B accommodation makes this an ideal bespoke wedding venue for couples wanting a country wedding with a difference.
---
---
Unique Central Coast Wedding Venues

49. The Stables of Somersby
Location: 

50 Lutana Rd, Somersby, NSW 2250

Capacity: 250
The Stables of Somersby is a private equestrian property with a rustic barn & loft (sleeps 4) and seperate pavilion. The sprawling grounds feature a rustic log arbor that's covered in wisteria and provides one of the most impressive natural aisles in NSW. The Stables is a DIY wedding venue that offers plenty of flexibility to put your own touch and creativity into the planning.

50. Somersby Gardens
Location: 

380 Somersby Falls Rd, Somersby, NSW 2250

Capacity: 120
Not your standard garden venue, Somersby Gardens is a relaxing 50 acre property that offers complete seclusion in native Australian bushland with some fascinating features. Aside from the pavilion and marquee reception venues, there's also a stunning outdoor amphitheatre, horseshoe bridge, wild deer, private access to the Great North Walk and a luxury 7 bedroom residence with a swimming pool.
---
---
Unique Newcastle Wedding Venues

51. The Lock Up
Location: 

90 Hunter St, Newcastle, NSW 2300

Capacity: 100
A disused police station is not your standard wedding venue but it sure is an atmospheric one. The exercise yard in Newcastle's original police station is now a contemporary art space that doubles as one of the most unique wedding venues in Australia. The Lock Up is located in the Newcastle heritage precinct and offers affordable wedding ceremonies and receptions.
---
---
Unique North Coast Wedding Venues

52. Longview Farm
Location: 95 Longview Cl, Caffreys Flat, NSW 2424
Capacity: 120
Longview Farm in the stunning Manning Valley is an all-in-one wedding venue with picturesque river & mountain views. Located on the Nowendoc River, the unique location features a luxury rotating house with balcony suitable for small weddings & elopements, a 440sqm open sided barn for larger weddings and plenty of open space for ceremonies, a marquee, lawn games and glamping. 
Longview Farm is a relaxing multi-day wedding venue with a late curfew, exclusive hire and flexible DIY wedding packages with plenty of free inclusions. 

53. The Banksias
Location: 

1126 Point Plomer Rd, Crescent Head, NSW 2440

Capacity: 120
Located on its own private waterway, The Banksias is a tranquil and secluded location for luxury weddings with a difference. Expansive grounds include your own private tennis court and golf course, plenty of space for a marquee and access to an isolated & pristine beach. 
The Banksias can be hired as an all-inclusive or DIY wedding venue and has accommodation for 18 onsite with the additional option of glamping. Bookings include exclusive use for extended stays at one of the North Coast's best surfing & fishing villages.

54. Villa Vivante
Location: 

111A Bruxner Park Rd, Korora, NSW 2450

Capacity: 120
Villa Vivante is named among Australia's most luxurious wedding venues. Perched on a hilltop in Coffs Harbour, this French-inspired luxury estate boasts 180 degree views across the Pacific Ocean. Hosting weddings of the rich and famous, this absolutely private estate comes with dedicated wedding planners, an infinity pool, tennis court and 12 seat home movie theatre.

55. Pillar Rock Farm
Location: 

1231 Wooli Rd, Pillar Valley, NSW 2462

Capacity: 200
If you love nature, you'll love Pillar Rock Farm. This unique wedding venue is located on 270 acres of farm and bushland in Pillar Valley on the NSW North Coast. Aside from weddings, the property offers plenty of adventures for a weekend stay from fishing & bushwalking to rock climbing, mountain biking & wildlife spotting.
Flexible DIY wedding packages include exclusive use of the famous red barn and self-contained accommodation in the guesthouse, barn loft and hunting cottage.
---
---
Unique Off-the-beaten-track Wedding Venues

56. Riverside Ranch
Location: 

151 Micalo Rd, Yamba NSW 2464

Capacity: 150
Located 1.5 hours south of Byron Bay in Yamba, sits this unique wedding venue on a 50 acre horse ranch. The riverfront property offers 4 ceremony and 3 reception venues including a saloon plus accommodation for 8 onsite. There's also a one-of-a-kind pontoon that couples can paddle 'Gondola' style along the waterway, making for stunning wedding photos and a romantic arrival to be announced as newlyweds. 
---
---
NSW has a wonderful collection of unique wedding venues that offer amazing experiences in unusual locations. From decommissioned coal mining sites to outdoor wedding venues and urban foodie places, the above list of unique wedding venues are among the most unusual places to get married in NSW. 
If you want your wedding ceremony and reception to be epic events that are remembered for decades to come, these unique wedding venues are the perfect starting point. 
Cover image: The Evoke Company